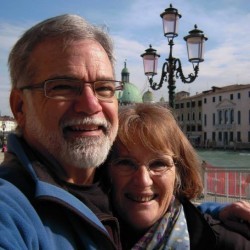 November 17, 2023
Dear Brothers and Sisters,
We hope this finds you enjoying blessings from the Lord and filled with gratitude during this Thanksgiving Season. Judy and I are very grateful to our Lord and Savior for all of the gifts we have received from Him.
The English Bible study in Mazere that began a month ago is going quite well. Two new participants were present and involved at the most recent session held the day before yesterday. This Bible study is for people who are interested in improving their English and getting to know the Bible better. The latest additions are an English lady who has lived in France for about twenty years and a French girl who is a senior in High School. The young lady's mother was at our first Bible study and had returned. There are a total of seven people in this Bible study. The English lady has lived in France for about 20 years with her husband who claims to be an atheist. She certainly does not need to improve her English, but seems to be quite interested in knowing the Bible better.
This week seems to be banquet week. Tuesday evening, we had dinner in the home of the Iranian couple who participate in one of our Bible studies. There were twelve of us from the Bible study present and Sh____ put out quite a spread of traditional Iranian dishes. It is great to see this couple's great interest in spiritual matters. Tomorrow we are having a Swiss fondue lunch with the members of our French Mazere Bible study in home of one of the couples who are a part of this group. We will have dinner in the evening in the home of our next-door neighbors. They have never attended the Sunday meetings but have indicated that they will do so. Meals are great opportunities for getting better acquainted with people and often lead to conversations about spiritual matters. Following the Lord Jesus' example in sharing meals is one of the highlights of "making disciples" and we love it!
We also love being on the same team as you! Please continue to pray for us including the activities and contacts mentioned above.
May the blessings from our Father fill your lives,
Judy and John Hatcher
Contact Info:
John & Judy Hatcher
2 T Impasse de la Picardie
31830 Plaisance du Touch
France
JMHatcher@aol.com
Present USA phone 1-812-416-1033
For ministry donations:
Pastor George Sledd, Treasurer of BFM
P.O. Box 471280 | Lake Monroe, FL 32747-1280
or click here to donate to BFM online.
Read more
---