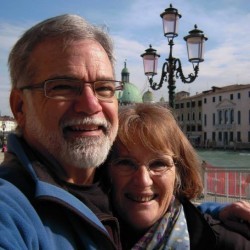 April 18, 2022
Dear Brothers and Sisters,
Hope this finds you rejoicing in the Lord. Despite the wars, rumors of wars and the discouraging things that our present world faces, we are very encouraged in the Lord. Yesterday we had a good day with God's people. On Saturday evening we had a great youth meeting with sixteen young people present. The study for our recent youth meetings has been the different responses to the good news of Jesus Christ recorded in the New Testament. The attention and response have been very good.
Our March newsletter mentioned an eighteen-year-old young man who requested baptism. We are thrilled about what God is doing in Timo's life. Just after I sent that last letter, I received a call from an eighty-year-old lady who wants to follow the Lord in baptism. She is the aunt of the Douceline, the lady in the city of Mazere in whose home we have been holding Bible Studies for many years. The young and the old are still coming to Christ! And … eternal life is ageless!
You never know how God is going to use you to touch someone's life and you never know to what that touch is going to lead. We were enthralled last week by a phone conversation with longtime friends and supporters, Tammy and Galen. They unwrapped the story of how their lives had surprisingly touched a lady across the street from them and the amazing spinoffs from that connection.
A dozen or so years ago Judy and I were praying for God to open doors for us. Looking at the local paper, Judy said, "Look, there is a new choir starting in town, maybe you should check into it." It was a word from the Lord. I sang in that choir for several years and we are still connecting, reconnecting, and sharing the good news of Jesus with people from that choir. The daughter of a couple in the choir, now in University in Lyon, was saved after coming to Sunday School and church for several years. The parents still have not made a profession of faith, but Pascaline has been a faithful believer and member of the Tournefeuille church for several years.
It is great to be serving the Lord along with you. Please, keep praying for us and connecting where you are!
In Christ,
Judy and John Hatcher
Contact Info:
John & Judy Hatcher
4, rue d'Aspin
31170 Tournefeuille, France
JMHatcher@aol.com
Present USA phone 1-812-416-1033
For ministry donations:
Pastor George Sledd, Treasurer of BFM
P.O. Box 471280 | Lake Monroe, FL 32747-1280
or click here to donate to BFM online.
Read more
---