John and Judy Hatcher
2 T Impasse de la Picardie
31830 Plaisance du Touch
France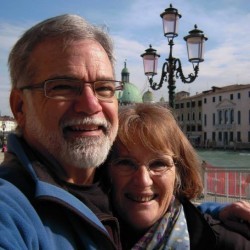 June 21, 2023
Dear Brothers and Sisters,
If you look at the heading of this letter you will see a new address. So, now is a good time to make note of our new home/hard mail address in your address book or file. God has answered your and our prayers about this matter. We have now been in a new house for the past three weeks.
Our church has also moved with us. We are only about two miles from our old location. God has already given us some connections with new neighbors and we continue to stay in contact with folks from our old neighborhood.
However, the best news of the last couple of months is in this paragraph. You may remember that a few months ago we began a new Bible study in the city of L'Union which is a thirty-minute drive north of us. Besides Judy and me, the only person who is a believer in these meetings is the lady who hosts them in her home. Even her husband is not a believer, but we have had a good friendly relationship with Him for many years. The attendees in this group have been stirred by God to seek answers. One married couple about our age are from Iran have undergoing much suffering. The husband was imprisoned a couple of different times for a lengthy period of time by the very oppressive government of their home country. They managed to escape to France about 25 years ago. They are both Muslim by birth and rearing. When we began the Bible study, they knew nothing about the Bible or Christ.
This couple, B—m and Sh—- have really paid attention, but just didn't seem to understand about Christ. If you have no close friends from the Islamic culture it is hard to understand that for them Mohamed is the greatest prophet and Christ is just a man. God in the flesh just doesn't make sense to them… until the Holy Spirit touches their heart. Last week, as I was once again explaining in detail that Jesus Christ is God, B—- who is normally very quiet spoke with a great smile on his face saying (in French) "I get it, I get it." He was thrilled and so are we.
Another Bible study that we have is in the city of Mazere, about 40 miles south of us. A lady there, sister to the host in L'Union, has been hosting a Bible study in her home for many years and it has touched many. Several have been saved over the years. Those who now come to this Bible study are believers. They live in cities where there are no churches. This is their primary fellowship group. Last Saturday, both of these groups, the believers and the seekers met together for a picnic and we had a great day together. Believers getting an opportunity to be living witnesses to unbelievers. We had some interesting questions from those who need Christ. I am including a snapshot taking at the picnic.
One more tidbit and then I will close. Last year a young man who started coming to church and Sunday School with his parents when he was in Grade School confessed faith in Christ and followed the Lord in baptism. Philip, our son and one of the church leaders, has been discipling this young man. At our last youth meeting we had good number of youth, his friends, who were there for the first time. We were thrilled.
You will see a picture of the Bible discussion taking place at this youth meeting.
Well, I am stopping for now, though there are a number of other blessings I would like share. We are delighted that you are co-laborers with us. Please continue to pray for us and those that God brings across our path.
Serving in France,
John and Judy
Contact Info:
John & Judy Hatcher
2 T Impasse de la Picardie
31830 Plaisance du Touch
France
JMHatcher@aol.com
Present USA phone 1-812-416-1033
For ministry donations:
Pastor George Sledd, Treasurer of BFM
P.O. Box 471280 | Lake Monroe, FL 32747-1280
or click here to donate to BFM online.
Read more
---