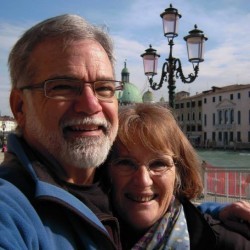 April 17, 2023
Dear Brothers and Sisters,
It is great to be teamed up with you. Judy and I enjoyed being able to join the Spring Conference hosted by Grace Baptist Church of Fairborn, OH. Thank you, Pastor Pyles, for inviting us to join you and making the arrangements for the Zoom meeting.
You will see along with this letter a picture of our Sunday service last week and one of our last youth meetings. We are particularly encouraged by the spiritual growth that we see in our young people and adults.
A bit over a week ago Judy asked me if I had anything planned to celebrate her birthday. My answer was, "No, what would you like to do?" I had sort of thought we would go to a nice restaurant to eat. Her answer was, "I would like to go to the Pic du Midi." On a clear day this distinct mountain peak can be seen from the second floor of the house in which we live. It has an astronomy dome and research center at the top. We made the two-hour plus drive from our home to the base of this mountain. After a fine meal at the only available restaurant, we took two sequential cable cars to the top of Pic du Midi. It was a wonderful celebration of Judy's birthday while enjoying a beautiful part of God's creation. Though we have seen the Pic repeatedly over a period of 23 years, this was our first time to the top!
Sometimes it is hard to believe that we have been fulfilling our calling to bear the good news and make disciples here in Southern France for more than 23 years. It is a continuous joy to serve God in this way with helpers like you. A good number have come to Christ and become His disciples. They are actively serving the Lord here and in a number of other countries and regions of France. God enables us to have meetings on a regular basis in five different locations where He is at work.
We are getting older, but our Saviour has given us eternal life. One Eternal Day you will get to meet those who have come to Christ with your contribution of what God has given you.
Look up! We are closer to the day of our Lord than we have ever been before.
From France,
Judy and John Hatcher

Contact Info:
John & Judy Hatcher
4, rue d'Aspin
31170 Tournefeuille, France
JMHatcher@aol.com
Present USA phone 1-812-416-1033
For ministry donations:
Pastor George Sledd, Treasurer of BFM
P.O. Box 471280 | Lake Monroe, FL 32747-1280
or click here to donate to BFM online.
Read more
---