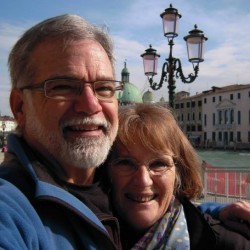 JOHN MARK +
JUDY HATCHER
John and Judy Hatcher have been serving the Lord in Tournefeuille, France since 1999. They define their ministry as "disciple-making," meaning they contact people, build relationships, communicate the Gospel, and help those who place their faith in Christ to mature in Him, follow the Lord in baptism, serve, and be united together as a church. They start by praying daily for opportunities and looking for ways to serve and befriend people God places in their path.
The Hatchers hold Sunday church meetings in their home, where they have about 35 people in attendance. There are local believers teaching and leading at all age levels of the church.
Youth Meetings have become a major means of outreach to Jr. High and High School aged young people. The saved children consistently invite and bring unsaved friends. There are presently some 30-40 young people who come with some regularity. Parents of these young people often express their thanks for the interest in helping their children. These meetings are alternately held in John and Judy's home and the home of Philip and Amanda Hatcher who have served with John and Judy since Fall 2001.
A number of small group meetings for prayer, Bible Study, encouragement and discipleship take place in various homes during the week. The Hatchers also use the internet as a means of reaching and teaching.
People who have been reached and taught in Tournefeuille are now living in 7 different countries on 3 different continents. The Hatchers are encouraged by the commitment of the disciples who God has moved to serve in other fields.
John was two years old when his parents moved to Manaus, Brazil to serve as missionaries. He was saved at the age of six. Judy was raised by godly parents in South Shore, Kentucky in the First Baptist Church of South Shore, where she received Christ at the age of 10. John and Judy met in Lexington, Kentucky and served in Manaus, Brazil following their marriage. The Lord took them to Evansville, Indiana where they served Emmanuel Baptist Church for 25 years before following the Lord's call to France. John and Judy have been married 47 years and have been blessed with four children and twelve grandchildren.
CONTACT INFO
John & Judy Hatcher
4, rue d'Aspin
31170 Tournefeuille, France
JMHatcher@aol.com

Present USA phone: 1-812-416-1033