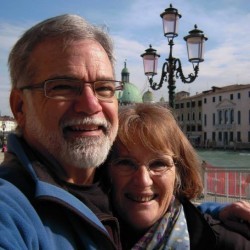 October 16, 2023
Dear Brothers and Sisters,
We hope this finds you enjoying the Lord's blessings. Since I last wrote to you, things have exploded in Israel and Gaza. It isn't the first time it has happened in our lifetimes or during the last several thousand years. It is good for us to remember that God is on the throne. It is important to put our trust in Him; not in human strength or wisdom. Our present Sunday study is the Book of Isaiah. The present events underscore God's message to Israel through Isaiah.
Yesterday, the son of the couple that hosts our Bible study in the city to L'Union was baptized. It is delightful to witness his enthusiasm for Christ. It is wonderful to see how God works through His children to bring others to himself.
If you have been praying for our newest Bible study with the couple who left the Watchtower Society, God is answering your prayers. Please continue to pray. The lady is quite interested and seems to have truly placed her faith in Jesus Christ. The husband seems to be more reticent; perhaps fearing that he will fall prey to another religious slavery machine. Upon reading this letter, would you pray for their witness to the wife's family. They will be visiting them during the next couple of weeks and this family is also controlled by the Watchtower Society.
We have been very encouraged by the participation in our Sunday meetings. One lady who had not come for a long time is now attending. She shows an interest and the desire to continue. Another young lady (in first year of University) who trusted the Lord a few months ago through the influence of a Christian young man she was attracted to in High School attends regularly with great interest. She followed the Lord in baptism a couple of weeks ago. You may remember reading in our letter in late Spring about the many young people who came to Youth meeting through contact with Timo, who trusted the Lord and was baptized last summer. This young lady is one of these young people.
This week we will be beginning a second Bible Study in the city of Mazere. It will be in English to attract individuals who want to improve their English. Some folks that we did not previously know have committed to participate. These are contacts of the hostess who works in the Library and Museum in this City. We will be studying through the Gospel of Mark.
Thanks for participating with us in these endeavors.
Yours fellow servants in Christ,
John and Judy
Contact Info:
John & Judy Hatcher
2 T Impasse de la Picardie
31830 Plaisance du Touch
France
JMHatcher@aol.com
Present USA phone 1-812-416-1033
For ministry donations:
Pastor George Sledd, Treasurer of BFM
P.O. Box 471280 | Lake Monroe, FL 32747-1280
or click here to donate to BFM online.
Read more
---