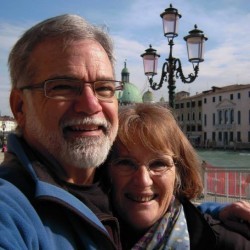 Dear Brothers and Sisters,
We are back in France! A week ago, we stepped off the plane in France. What a delight to walk out of the baggage claim area to find Philip and three of our granddaughters waiting for us. Amanda and Camille were at our house putting finishing touches on cleaning and preparing lunch. We are thrilled to be back to the place that God led us to 22 years ago.
Though there are still many restrictions here because of the Covid virus, within a couple of days we encountered many of our neighbors. However, Sunday crowned our joy as we sang in person with the members of our congregation. Though we have been meeting online with the church at Tournefeuille, we could not hear each other singing. Sunday was a very small foretaste of heaven where numberless multitudes will be praising the Lord together.
Yesterday, we had lunch with the Veuillet family from our church. Jean-Luc is one of our teaching leaders. We had an excellent meal and time of fellowship together. This family is a great blessing and encouragement to us as musicians, teachers and committed believers. They just bought a house that is further from our meeting place by about 20 minutes on the road. However, this a small city that desperately needs a gospel witness. I am hoping that this could be the beginning of a church in that community.
We just learned that the house in which we live and hold our church meetings is going to be sold. The rental agent is to meet with us in a couple of weeks to discuss alternatives. Please, pray for us that God will direct our hearts in this matter. Or, if you would like to donate $500,000.00, we can just purchase the house. In case you are wondering, it is not a mansion. You can call Darrell Messer or Randy Jones who have been here for details.
We thank God for each of you and your faithful participation in what God is doing here.
May the Lord bless each of you,
John and Judy
Contact Info:
John & Judy Hatcher
4, rue d'Aspin
31170 Tournefeuille, France
JMHatcher@aol.com
Present USA phone 1-812-416-1033
For ministry donations:
Pastor George Sledd, Treasurer of BFM
P.O. Box 471280 | Lake Monroe, FL 32747-1280
or click here to donate to BFM online.
Read more
---

Greetings from WV!
It's so nice to greet everyone from this side of the US! We are all doing well and are enjoying our time on furlough. I hope and pray this letter finds everyone else doing well and enjoying the spring weather. It's certainly been a lovely time of year for us. We miss the deep green that surrounds us here during the spring and summer months. Kenya is beautiful and has many gorgeous plants and flowers, but the leaves and grass aren't as green as they are here. We are looking forward to the warm weather of the coming months.
Our time at home has been a blessing to all of us. It's hard to believe that in a few months, another school year will be finished. Kenna is currently in 7th grade and Cami is in 4th. Next year is the last year of middle school for Kenna, and the first year for Cami. They are growing up so quickly! I've been busy trying to figure out Kenna's curriculum for next year, knowing that she is approaching high school and that everything then "counts," so to speak. We are trying to enjoy each day and not get bogged down in the details.
Nathan is working hard to keep up to date with everyone and coordinate the travel plans and present the ministries to churches. He is doing a great job trying to meet all the needs of our family with all the transitions involved in missionary life. The girls, while enjoying their time on furlough, have also been lonely and miss their friends and pets in Kenya. Nathan does all he can to support and encourage them. He is a great father to our girls.
This year has been different for us, as it has been for all of you as well. Covid has changed many of our "normal" furlough activities, but we are thankful to be home during this time. The people of Kenya are experiencing a return of lockdowns in at least 5 counties, including Nairobi, as Covid is spreading very rapidly there. While we can get vaccinated here, vaccines are very limited in Kenya and there are few ICU beds in the country. Please continue to pray for the country of Kenya during this time.
Thank you all so much for your thoughts and wishes and prayers for our family. We appreciate them more than you know! We are so thankful to everyone who has invited us over to chat or offered for the girls to join in activities with your churches and groups. We pray everyone stays safe and healthy during this time. Blessings.
In Christ,
Carrie (and Nathan, McKenna and Camille)
Contact Info:
Nathan and Carrie Radford
naterad[at]yahoo.com
Furlough Address
1126 Smith Street
Milton, WV 25541
For ministry donations:
Pastor George Sledd, Treasurer of BFM
P.O. Box 471280 | Lake Monroe, FL 32747-1280
or click here to donate to BFM online.
Read more
---