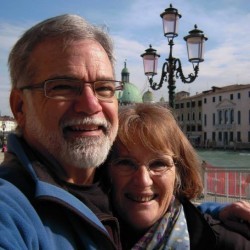 November 14, 2022
Dear Sisters and Brothers in Christ,
It's Thanksgiving Season and we are very thankful to our Heavenly Father that He has given us many years of fellowship with you. Thank you for your faithful support.
Thanksgiving is not a holiday in France but we always celebrate it as close to the US National holiday as we can. This coming Saturday we will be having Thanksgiving dinner together with Philip, Amanda and their two younger daughters. Camille is in her first year at a University here and Emily is a Senior in High School. We have also invited two couples who have been friends for a long time. Neither of these are believers. The primary way we share the Good News is in encounters and meals together. One couple are parents of Pascaline who trusted the Lord and followed Him in baptism several years ago. She is now doing University studies in the city of Lyon.
Friday night we were surprised by the visit of Marie Theophile. She was a part of our assembly for about ten years along with her parents and siblings before going to University. She is now completing Law School in Northern France. Many young people from our congregation are now in Universities in other regions and countries. Thomas just moved to Italy this past Friday to attend Medical School. We hope and pray that each of these disciples will follow the Lord faithfully where they are.
If you have prayed for our newest Bible study in L'Union, we have encouraging news. God is definitely at work in these meetings. Attention and participation has been great. Please continue to pray for the salvation of the seekers who need Christ and are attending these Bible studies. Since the good majority are lost and have practically no familiarity with the Scriptures, we are reading and discussing the first few chapters of Genesis and then moving to the Gospel of John.
These are some of the highlights of what God is doing here. We thought you would like to know!
Serving Christ along with you,
John and Judy
Contact Info:
John & Judy Hatcher
4, rue d'Aspin
31170 Tournefeuille, France
JMHatcher@aol.com
Present USA phone 1-812-416-1033
For ministry donations:
Pastor George Sledd, Treasurer of BFM
P.O. Box 471280 | Lake Monroe, FL 32747-1280
or click here to donate to BFM online.
---