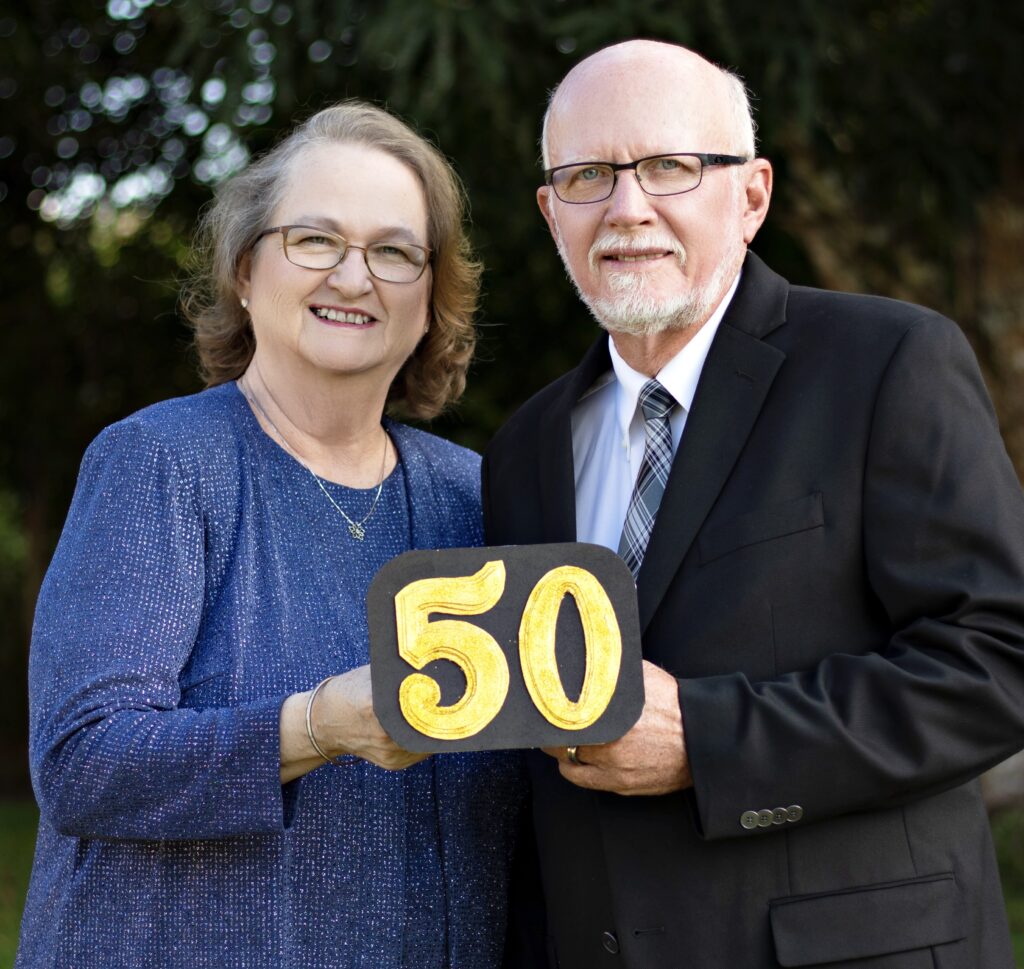 December 13, 2022
Dear Brethren,
It has been a while since I have reported to you. My bad. Over the past three months it seems that I have been ill more than well. In and out of the doctors' offices regularly. Even had some pretty serious surgery. Not an excuse. Not a complaint. Just letting you know that my motivation is pretty low right now. There is plenty to celebrate though, so here goes.
We have a young man in our church who owns an air taxi company (2 planes. His dad started the company). Ismael flies us on some of our mission trips to more remote locations. We pay just the gas. He took me and 3 of my guys to visit our missions at Santa Rosa do Purús and Jordão. These are the two most remote and isolated cities of the 22 official municipalities (counties) of the State of Acre. We have sent already sent missionaries to all of the towns that had no Baptist church.
We sent Lucas and Diana to Santa Rosa do Purús 3 years ago, during the pandemic. They have won some souls already and are meeting on a porch along one side of the house that we bought them. We have asked Lucas to start looking for property for us to put up our first building. They are also helping the small group of Kaxinauá Indian believers that we had contacted before we actually sent our missionaries there.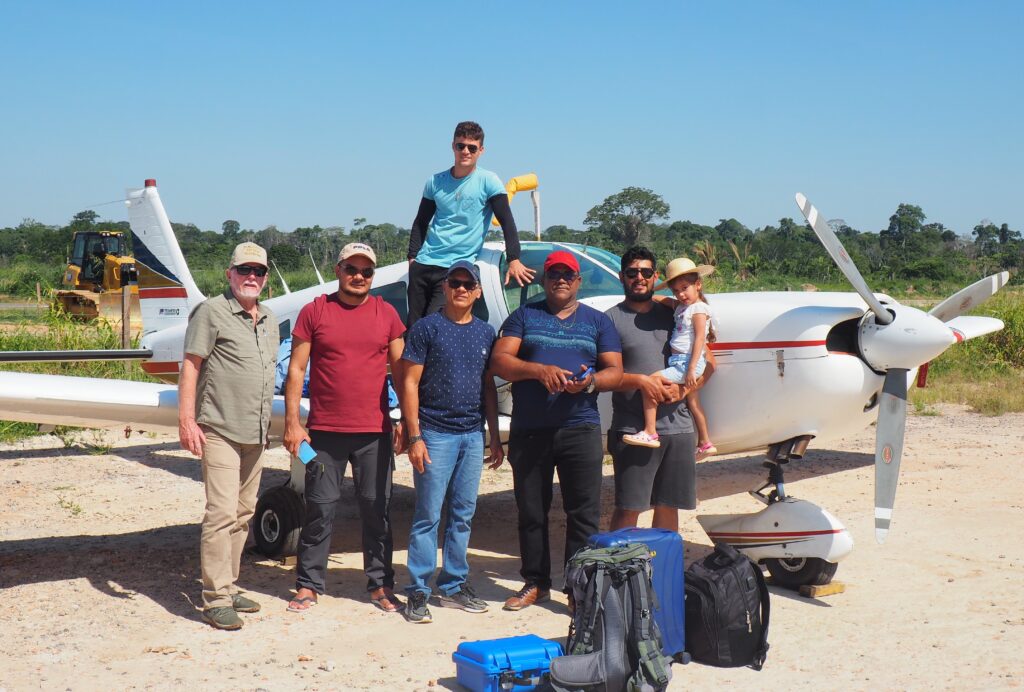 Idevaldo and Queila have been at Jordão for 6 or 7 years now. They just finished their brand new building. All services had between 60 and 70 people. There were 4 professions of faith. On Sunday morning I baptized 7 people in the very shallow waters of the Tarauacá River.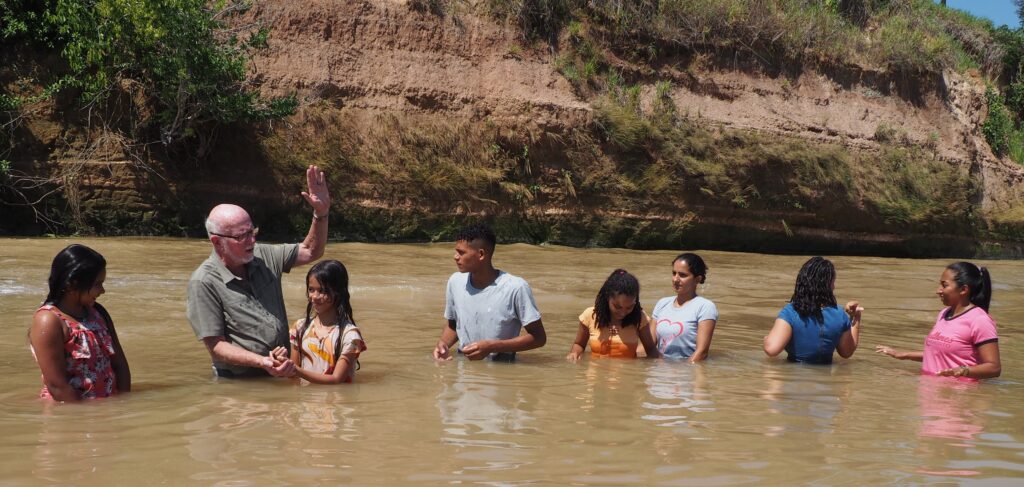 Our trip covered about 1200 miles. This took just a few hours of travel time. I can reach both towns by trailering my boat then going up two different rivers. This would take a combined 68 hours just of travel time. Our work has expanded so far that the plane is a life saver.
At the same time that I was baptizing at Jordão, our home church also added 15 more members by baptism.
In mid-November I held a three day meeting for our church at Assis Brazil. It was their 60th anniversary celebration. Dad organized this church on November 15, 1962. Originally the church was located beside the lake at Humaitá do Moa. Later they moved to terra firma inland at Assis Brasil. They are in a beautiful and big new building. They have a vibrant mission work, too. Five children were saved on Sunday night. I waited until the last night of the meeting to reveal that I was the musician who played my accordion for the organization service 60 years ago. If I had told them that prior to the meeting they would have tried to convince me to play again now. Fortunately, none of us were subjected to that torture! The meeting ended well.
Thanks for all of your prayers and support. God bless you as much as He has us.
In Christ,
Mike Creiglow
In Christ,
Mike Creiglow
CONTACT INFO
Mike & Beverly Creiglow
Caixa Postal 24
69980 Cruzeiro do Sul, Acre
Brasil, SA
mdcreig@hotmail.com
For ministry donations:
Pastor George Sledd, Treasurer of BFM
P.O. Box 471280 | Lake Monroe, FL 32747-1280
or click here to donate to BFM online.
Read more
---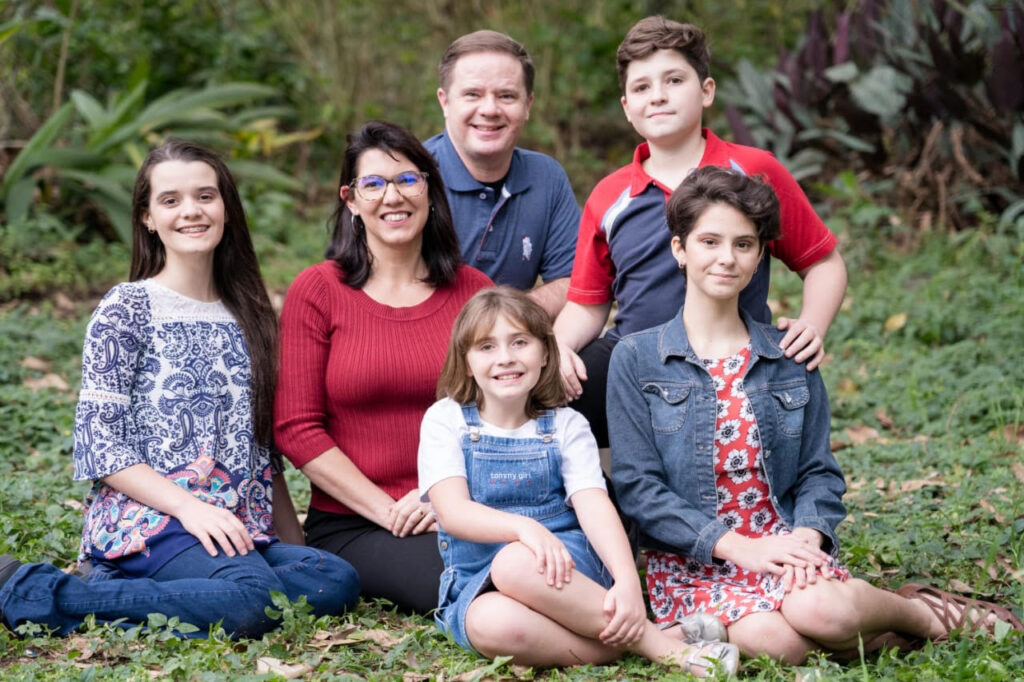 August 20, 2022
Dear friends,
Thank you for your faithful financial support & prayer. Please, pray for me as I will undergo several surgical procedures in the coming weeks. 1) The removal of the port catheter from my chest (cancer-free & no longer needed). 2) Surgery on my hands/wrists due to severe carpal tunnel (I am looking forward to the pain relief). Also, pray for 3) Laura as she continues her cochlear implant hearing therapy. 4) Our return to São Paulo at the end of this year. 5) The church ministries conference at Nova Baptist Church in Manaus, where several pastors and leaders from across the country are flying in for the occasion.
Sarah returned from her two-month mission trip in the Amazon. The Lord used her mightily, and she learned so much while there. Our four children started back to school this week. In September, Raquel will attend a foster care/orphan care conference in Georgia. She is looking forward to this special event.
I have trained leaders with the "servant leadership" framework for the longest time. Within the last year, conviction has grown in my heart for the "steward leadership" framework instead. Let me share a little about "steward leadership." One of the most outstanding steward leaders in Scripture is Joseph. What a leader and administrator! According to author Kent Wilson (2016), "A steward is someone who manages resources belonging to another person in order to achieve the owner's objectives." Wilson discusses the role and responsibilities of the steward. Particularly important for the steward are work ethic, personal virtues, absence of personal vices, training and experience, loyalty to the accountability structure and relationships, wise use of resources, and practical management skills.
In his book, Rodin (2010), addresses the age-old debate "nature-versus-nurture" and posits that leaders are "freed to lead". As his primary thesis, this freedom fosters holistic transformation and renders an obedient response from born-again believers. This obedient response establishes the person's work effectiveness. He continues, "Our call to be stewards is based on our acceptance of each as a gracious gift and our rejection of the lure to play the owner." We are freed from self, equipped by God according to each calling. In addition, "We were created as caretakers of creation, and in Christ, we have been restored to that high and holy calling."
Steward Leadership is a worldview mindset where a called individual is a learner who leads as a proctor administrator, free of second intentions, where with high integrity and character serves another and is responsible for resources (or an organization) with full-fledged decision-making authority and is accountable for those responsibilities, the use of power and the strategies implemented (Rodin, 2010; Simmons, 2019; and Wilson, 2016).
The steward leader is a servant at heart, but not every servant is a steward leader. This leadership lifestyle involves self-denial but not lacking confidence to influence people and outcomes. A steward leader is deeply accountable, trustworthy, and empowered to mobilize and delegate to successfully lead within all levels of an organization, selflessly empowering and encouraging people within his sphere (Simmons, 2019).
If you love to read and acquire new insights. Check out these resources:
* Rodin, S. (2010). The Steward Leader. Downer's Grove, Intervarsity Press.
* Simmons, B. (2019). LDR 9610 Unit 1 Lecture HD. Online Studies, https://www.youtube.com/watch?v=oOv8eyIeKSg&list=PLHAVnCRu3fmg6wLpFmZFrP80dOhf04GEs&index=12
* Wilson, K. R. (2016). Steward Leadership in the Nonprofit Organization. Intervarsity Press.
Thank you for your love!
Jud Hatcher
Contact Info:
Jud & Raquel Hatcher
São Paulo, Brazil
judsonhatcher@gmail.com
(872) 400-6522
For ministry donations:
Pastor George Sledd, Treasurer of BFM
P.O. Box 471280 | Lake Monroe, FL 32747-1280
or click here to donate to BFM online.
Read more
---