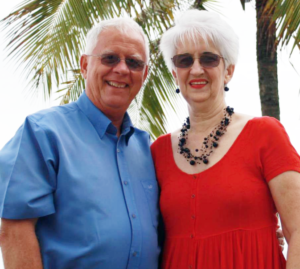 AJ + Barbara
Hensley
In 1996, AJ Hensley took an early retirement from the Lexington Fire Department, and he and Barbara were commissioned as missionaries to Brazil. They went to work in Garça, Brazil, with Odali and Kathy Barros at the Alpha & Omega Orphanage. After several years, they joined another missionary couple and went to Jacarei, São Paulo, to open another orphanage. They were able to buy property for the work, but the mayor of the town would not approve the orphanage. He did not want Americans coming in and doing something he would not do. So, after two years of trying, God moved them to Caraguatatuba.
God directed them to the town of Caraguatatuba where they helped a national pastor in his work, then joined another American minister and his family in opening another church where they served for several years. They then stepped out with God to open Caragua Baptist Church. As they worked establishing this church, they ministered to men in prison, lower income families, Indians, and other pastors.
In 2017 while visiting the States, AJ was diagnosed with prostate cancer. This diagnosis changed their focus entirely. Knowing they would have to return to the States for treatments, they accelerated the work they had started: a seminary for Brazilian pastors.
Baptist Faith Missions has allowed them to continue serving the Brazilian pastors with this seminary. At the request of the Brazilian government, they had to change the name—it is now called Bluegrass Baptist Seminary. What an AWESOME result God is producing there! As of 2020, they have completed 32 classes with 9 courses in 6 cities with an enrollment of 277 students, including pastors, missionaries, and church leaders. They are constantly being asked by pastors to come to their city to begin the seminary in their area. God is increasing their territory day by day.
AJ and Barbara are both Kentucky natives. They have been blessed with two children and three granddaughters.
CONTACT INFO
AJ & Barbara Hensley
30524 Mimi St
Sebring, FL 33870
AJ: 859-539-2302