Greetings in the name of Jesus Christ,
Have you ever questioned God's character? Have you ever questioned his goodness? Have you ever questioned his justice? Have you ever asked him, "Hey, God, why are you doing this"? or "Why did you allow that to happen"?
You say: "Roger, good Christians and good followers of God don't ask those kinds of questions" (At least, good missionaries don't, right?). And I suppose you are right.
But I have been asking God some of these questions lately. "God, why won't you let anything I do in your name succeed"? "God, why do you allow false teachers, false prophets and false pastors to thrive with seemingly no effort"? "God, why do I not have any energy or strength to do your work"? "God, why do you allow things to start well only to allow them to die a slow death"?
I am especially asking God about that last question, especially concerning the Chapel. Things were going so well at the Chapel to the point that I had begun to teach and preach about what constitutes a church and what is a church and what does it mean to organize and start a church. I was thinking the people of the Chapel were ready to hear these things and maybe we were ready to proceed to organize into a church. However, since we shut things down in March as a result of Covid the whole ministry has (in my estimation) imploded. Only three or four people show up to our services each week, some of those an hour late. Those that come have an apathetic spirit about worship and service. Others offer lame excuses for not coming. I can't even seem to get electricity and water at our new venue.
I so much want this ministry to grow and thrive. I so much want the Kingdom of Jesus to grow in this place. I so much want Jesus to be loved and followed by those here who are called by his name. But every time it seems like we are heading in this direction it also seems like everything eventually falls apart.
So, yea, I've been asking God some of those kinds of questions, even though I know I am the problem and not him. But I am not alone in asking these kinds of questions. Various psalmists asked these kinds of questions. And most recently I noticed how Habakkuk asked these questions about God's justice. Habakkuk looked around at his nation, Israel, and cried "ah, violence, iniquity, strife and wickedness everywhere. God, why won't you do anything"? So God said, "I will send the unrighteous Babylonians to judge and destroy Israel". Habakkuk responded, "Hey, wait a minute, God. That doesn't sound right either. What are you thinking"?
See, others question God's goodness sometimes too. So, starting this Sunday we will embark upon a study of Habakkuk at the Chapel – to see what God has to say to Habakkuk and to see what Habakkuk learns and how he responds to God. This study isn't mainly for the three or four people who are attending the weekly service, but is mainly for me. If you haven't read Habakkuk in a while, go check it out. It's only three chapters long and has some good insight that you (and especially I) might need.
Blessings to you all,
Roger, Julie, Amy, Josiah & Chloe
CONTACT INFO
Roger & Julie Tate
P.O. Box 96
Kitale, Kenya 30200
rojuta@gmail.com
Read more
---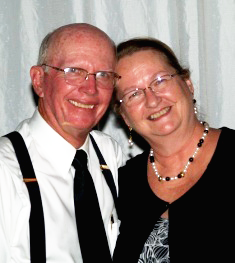 Hello to all.
These past weeks have been very different, not to say "weird." It has been just a little over three weeks that Brazil has called for the "stay at home" quarantine. That has not been too difficult for me since I do not go out much anymore. My life is centered around church activities, but now that this has been taken away, I have a hard time remembering what day it is! I do a lot of crafts and reading to occupy my time. I do not get to see my grandkids as much as before. I miss the hugs.
Mike and I usually start our day with a cup of coffee, sitting in our comfortable chairs in the living room. Each individually read the Bible and then we share and pray together. I enjoy this time.
We have no more flights in and out of Cruzeiro do Sul. The only way in or out of here is by road and they wanted to even shut that down. Thankfully, the federal government would not allow it. We would have been completely shut off from any kind of food supplies. We had not had any positive cases of the virus here until a couple of days ago. Hopefully it will not spread. The media here is doing as in the States, making people panic.
People have asked what my ministry here is. For the last several years, it has been taking care of Mike. That in itself is a big job!! Kidding. He tries to live his life as he did twenty or so years ago. His mind wants to do it, but his body just is not as young as it was then. Mike is still very active and it is a struggle to get him to slow down. He records several videos a week to keep our church fed spiritually. My mind and body have a hard time cooperating with each other.
Mike and I always have spent a lot of time together. At this different time in the world, we have taken advantage of watching some movies together in the evenings. He hardly ever had time to do that before. He always lets me have his new recliner to sit in. He is a nice guy.
We are praying for the presidents of Brazil and the USA. Please help pray for them both. They both have so much in common. The opposition has made both their lives very difficult.
Please continue praying for us here.
Love to all, Beverly
Contact Info:
Mike & Beverly Creiglow
Caixa Postal 24
69980 Cruzeiro do Sul, Acre
Brasil, SA
mdcreig@hotmail.com
For ministry donations:
Pastor George Sledd, Treasurer of BFM
P.O. Box 471280 | Lake Monroe, FL 32747-1280
or click here to donate to BFM online.
Read more
---