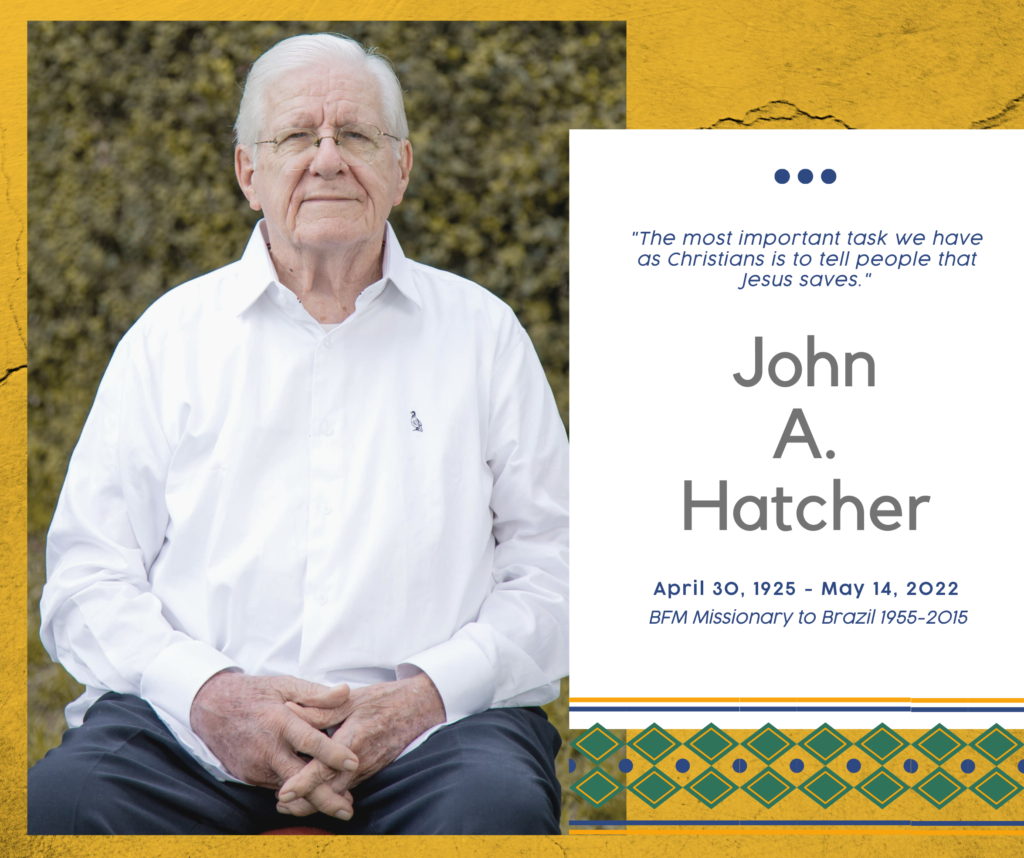 "…'Well done, good and faithful servant; thou hast been faithful over a few things, I will make thee ruler over many things: enter thou into the joy of thy Lord.'"  -Matthew 25:23
John Albert Hatcher, died on May 14, 2022, at his son's home in Clermont, Florida, where he lived comfortably for the past eight years under the loving care of Paul and Wanda Hatcher, his eldest son and daughter-in-law.  
John was born in 1925 in Alexandria, Kentucky, to Albert and Beatrix Hatcher. He was the second of four children, reared in a God-fearing home on a dairy farm. He trusted the Lord Jesus at age nine after hearing the Gospel story of the three crosses, which he later made into a visual pamphlet, translated into three languages, and shared with hundreds of people in his latter years. 

Upon finishing high school at Campbell County H.S., amidst World War II, he signed up as a volunteer for the U.S. Merchant Marines. He served proudly for four years, including action on D + 1 day at Normandy, France. After the war he enrolled in Georgetown Baptist College, Georgetown, Kentucky, where he earned his Bachelor's Degree. He went on to earn a Master's in Theology at Lexington Baptist College and a Doctorate in Theology at Luther Rice Seminary.  
In his first year at Georgetown College he met his wonderful wife, Alta McKeehan, and they were married for 69 years. Throughout their college years they worked together in home missions in Kentucky. After graduating, he pastored in Shelbyville and Beattyville, Kentucky, and finally in Alton, Illinois before they followed God's call to be life-long missionaries to Brazil, sponsored by Baptist Faith Missions.  
He arrived in Brazil in 1955 with Alta and their children, and dedicated the first 19 years to church planting in the Amazon Valley, working in the city of Manaus and in villages along the Amazon River. During those years John founded Batista das Americas School and the Manaus Baptist Theological Seminary, and was involved in starting several churches. His many skills and talents were put to God's use: piloting his boat, building churches and school buildings, making pews and desks, educating and training young pastors, translating theology books, printing Christian literature and song books, evangelizing and teaching by radio, using puppets, ventriloquism and magic to reach people for Christ. John played the saxophone and clarinet and loved Christian music.  
In 1976 John and Alta felt led to move to the city of Garça, São Paulo, in southern Brazil. There he started ten churches in ten cities where there were no Baptist churches, along with a bus ministry and Bible Institute through which the churches were serviced with leadership.  
In 1989 John moved 200 miles further south to Urai, Parana, Brazil. In the next years he repeated the church planting and leadership training, resulting in seven thriving churches in that region, each with its building paid for.
John Hatcher was known for his unwavering faith in God, incredible discipline and work ethic. As his late mission director, Hafford Overbey put it: John Hatcher works!
All of John and Alta's children are actively involved in church work, serving the Lord as pastors and missionaries.
Only Heaven will tell the extent of John Hatcher's influence in spreading the Gospel to the nation of Brazil. He is loved and will be missed by thousands. He fought the good fight, finished his course, kept the faith.  
In addition to his parents, he was preceded in death by his wife, Alta McKeehan Hatcher, his daughter, Lynn McGary, his unborn son, buried on the banks of the Nhamunda River in the Amazon, and his brother, Charles Hatcher. He is survived by two sisters Neree Woods and Jessie Sills, his loving children, Ranaah Paul Hatcher (Wanda) of Clermont, Florida, John Mark Hatcher (Judy) of Toulouse, France, David Judson Hatcher (Pennie) of Manaus, Brazil, Kathy Amazonas Barros (Odali) of Iranduba, Brazil, grandchildren and great-grandchildren.  
---
Arrangements
Visitation | Tuesday, May 24, 2022 | 6:00 PM – 7:00 PM
Becker Funeral Home | 806 W. Minneola Ave. | Clermont, Florida 34711 | Directions
Funeral Service | Tuesday, May 24, 2022 | 7:00 PM – 8:00 PM
Becker Funeral Home | 806 W. Minneola Ave. | Clermont, Florida 34711 | Directions
Graveside Service with Military Honors | Wednesday, May 25, 2022 | 10:30 AM – 11:00 AM
Cape Canaveral National Cemetery | 5525 US-1 | Mims, Florida 32754 | Directions
Memorials
In lieu of flowers, please consider contributing to John's lifelong passion, missions.
You may do so at:
Baptist Faith Missions
c/o Pastor George Sledd, Treasurer of BFM
P.O. Box 471280
Lake Monroe, FL 32747-1280
or click here to donate to BFM online.
Please designate to the "General Fund in memory of John A Hatcher".
Condolences
Condolences may be made to the family at:
Paul Hatcher | 15905 Mercott Ct | Clermont, FL 34714 
Click here to read the Autobiography of Alta Hatcher: "The Story of My Life as a Missionary"
"Disse-lhe o seu senhor: Muito bem, servo bom e fiel; sobre o pouco foste fiel, sobre muito te colocarei; entra no gozo do teu senhor."  –Mateus 25:23
Read more
---
We are thankful to announce that we have asked Pastor Jonathan Turner to serve with us as a Director of BFM, and he has consented. Jonathan is currently serving as Pastor of Richland Baptist Church in Livermore KY, which also has a decades-long history of BFM association with and support of BFM.
Pastor Jonathan has been associated with Baptist Faith Missions all his life. He grew up in Brazil as the son of the late Missionary Richard Turner and current pensioner Wanda Turner. They served for 16 years as missionaries supported through BFM.
Pastor Jonathan has maintained a close relationship and fellowship with BFM throughout his life and pastoral ministry, not only in his personal friendship and fellowship, but also in leading the churches where he has served to either begin or continue maintaining support for BFM.
We are thankful to God for this partnership and we look forward to serving Christ, His churches, and the missionaries associated with BFM with him alongside us. He brings with him a rich experience of faithful pastoral ministry as well as his distinctive perspectives as a 'MK' ['Missionary Kid'].
He is man of integrity and proven service. Please join us in welcoming him!
Read more
---