April 21, 2022
Happy May to you all!
I don't know about you, but my head is absolutely spinning! It seems as if the whole world is changing, doesn't it?
I think for me, with everything in the world seeming to be upside down, my brain is struggling even more with the fact that everything in my personal life seems upside down right now, too. It's not the rainy season bringing on millions of flying termites (thousands of which ended up in my house last night including in Chloe's bed…); it's not the monkeys and baboons finding their way into my kitchen to steal food; it's not the electricity going on and off that makes my brain hurt…. No, it's transition, chaos, colors, sounds, waiting, not being able to talk about things, and sometimes not feeling heard that short-circuits my brain. Bring on the baboons, the monkeys, and the termites…but give me familiar surroundings; colors that don't hurt my brain; and people who hear me, know me, understand me, and will pray with me. In the midst of total chaos, this is what my soul longs for.
As you probably know, Roger, Chloe, and I are not currently in Kitale. But if you read Roger's newsletters, you already know that; so, instead of reiterating all of that story, I'll share with you how Chloe and I are doing in all of this.
Chloe has both really struggled with this transition and greatly benefited from it. She is seeing an American occupational therapist here in Kijabe who is absolutely wonderful with our whole family. The first couple of weeks we were here, Chloe fell down the steps in the house (not all the way) three times, she threw something out of anger and shattered a large, beautiful bathroom mirror (which doesn't belong to us), she began wetting the bed nightly, and she regressed to a lot of mal-adaptive behaviors because everything was new and scary to her. Three months later though, her core strength has noticeably improved; she's able to take long walks with us; she's playing outside more; she's showing a lot more maturity in her conversations with me, and she is trying her best to regulate her emotions and reactions to things (something Luke – the OT – said would likely happen as she becomes more capable and independent as a result of OT).
But OT takes years of work, and it is only one of many things she needs. We are asking God to provide a support worker (preferably from the US) who can come for a year and work with Chloe on a daily basis – which would also provide Roger and I with a break from being her caregivers 24/7/365. As brilliant, funny, sweet, and compassionate as she is, it's a well-known fact that of all the special needs which children face, autism is one of the most difficult on the family as a whole. The marriage failure rate of families with autistic children is 80%. That's scary high. So, it's really important to be in a location where not only is Roger able to minister and do church planting, but also where our whole family can get the support and care (physically, mentally, spiritually, and emotionally) we need.
The transition hasn't been easy on any of us. It's difficult (though much appreciated) to live in someone else's home surrounded by unfamiliar things and colors…having to be even MORE hyper-vigilant that things don't get broken or ruined. It's difficult learning how to manage a household with the nearest grocery store an hour away…learning new people and new people learning about us and Chloe…figuring out how to fit into a new community. But truly, any difficulty is worth getting the help Chloe and we need, especially since we can't bring her back to the US.
But there is also amazing beauty and peacefulness here. The view of the Rift Valley and the surrounding mountains (including a beautiful dormant shield volcano called Mt. Longonot) has always been a visual balm to my soul. The streets are quiet without the traffic and the motorcycle taxis of Kitale. I feel safe to walk, am surrounded by the Kijabe forest (I grew up wandering around woods for hours at a time), and love watching the antics of the local Colobus monkeys, Sykes monkeys, and even the baboons.
As far as how you can pray for us, you can pray for the following: 1) A support worker; 2) respite for Roger and me; 3) peace in Chloe's heart and soul and mind; 4) the medical/mental/spiritual/emotional support our family needs; 5) transitions to end sooner rather than later; 6) parental patience; 7) acceptance of Chloe by the community; 8) comfort as our second daughter is getting married in May and, though we will be there for the wedding, we can't participate in the festivities the way we could if we were there…and we have to leave Chloe behind with hired help. Please pray for them and for her. She struggles mightily with abandonment issues and Mama's heart hurts deeply for her; 9) Adoption to open up; 10) For me to find a quiet place to work on my art…a past-time I discovered last August that really helps me cope.
Thank you all,
Love,
Julie Tate
CONTACT INFO
Roger & Julie Tate
P.O. Box 96
Kitale, Kenya 30200
rojuta@gmail.com
For ministry donations:
Pastor George Sledd, Treasurer of BFM
P.O. Box 471280 | Lake Monroe, FL 32747-1280
or click here to donate to BFM online.
Read more
---

April 9, 2021
Beloved Brothers and Sisters,
I can't believe another year has come and gone…it reminds me of the phrase in the Bible, "…and it came to pass…." Just like many other euphemisms — "what goes up must come down," and "what goes around comes around"— it is also true that all things which come will also pass. Sometimes we feel stuck in current circumstances, but that's only our limited perspective. As the Alpha and Omega, God sees the beginning from the end. Not only do all things have a set time, they have set purposes as well.
Milimani Christian Homeschool Community's time has passed. This was both a relief and something I grieved deeply. People here in Kenya who know me well know that I poured 150% of myself into MCHC. I loved (and still love) the children and the teachers deeply, and I found great joy in helping all of them academically and spiritually. I loved discipling the teachers, not only in teacher training and opening their hearts and minds to children with learning challenges and differences, but also in their walk with the Lord. I loved talking about and demonstrating the love of Jesus to children from different walks of life – children from Christian homes, nominal Christian homes, and even a Hindu home. I loved watching children who were bitter bullies blossom into caring friends. I loved watching our neuro-diverse children find joy and confidence in a learning environment that treasured them and helped them find their strengths without belittling their challenges. I loved watching children learn to accept one another's differences while finding their commonalities, even among different ethnic backgrounds. I can't begin to tell you what a joy it was. I don't understand why it had to end the way it did; I can only say that it was a good and beautiful thing, and I trust God will continue to use that time in the lives of the people who were touched by it.
Having said that, it seems obvious that in the passing of MCHC, God had another great adventure planned…homeschooling and raising Chloe. Homeschooling and raising children are not new to me. Doing it for Chloe, however, is unlike anything we've ever done. Not only are we parenting and working with her academics, I find myself in the position of being her ABA (Applied Behavioral Analysis) therapist, her OT (Occupational Therapist), her emotional co-regulator (teaching her to regulate her own emotions by doing it physically with her), her advocate (and our own), and even a researcher to understand her and what she needs. This is more daunting than MCHC ever was, but everything I learned at MCHC, I am now applying at home. In fact, without my experience at MCHC, I would be quite ill-equipped. This is beautiful to me. You see, God is never doing only one thing at a time in any one circumstance. One of the things He was using MCHC for in my own life was training me to teach my own very special needs child. All this has pushed Roger and me beyond the limits of anything we feel capable of doing…or surviving. We're learning more about ourselves and our own hearts than we want to know, but even that is beautiful to me (usually…).
We can often feel stuck in our challenges, but from time-to-time God reminds me to step back and see all the struggles that have come…and have now passed. There is so much hope and growth. Chloe's academics have really taken-off in her homeschooling environment. A friend of mine from the US with a Master's degree in Special Education is here and has done some evaluations with Chloe. She's told me that Chloe is actually quite intellectually gifted. She loves to read, her math facts are like muscle memory (when she's relaxed and can access them), she has an amazing memory both verbally and visually, and she loves music and cooking. In fact, she just loves learning and has a super cute sense of fun and humor to boot. I am so thankful to have her in an environment that won't squash that.
She does have challenges though, and I would ask you to pray for us as we research and find help for her in these areas. Autism often comes with other issues…a lack of ability to regulate her emotions (thus the scars up and down my arms), difficulty with social communication despite an extensive vocabulary, and severe anxiety due to sensory processing disorder and nervous system overload creating flight or fight reactions (usually fight…). In Chloe's case, her neuro-developmental psychologist has told us she also has attachment insecurities and food insecurities (from babyhood before she came to us), as well as dysgraphia, mild dyslexia, and dyspraxia. This a condition in which the communication between Chloe's brain and her muscles gets mixed up causing fine and gross motor skill difficulties. Basically, her muscles don't know how to do what her brain tells them to do. This also affects her speech.
I really appreciate your love and prayers for our family. Please continue to pray for our kids in the US as well: Emily and Igor, Amy, and Josiah. It's hard to be "stuck" in Kenya with no hope of being able to see them anytime in the near future. We miss them terribly, and though we love the gift of being able to have video calls with them once a week, it's just not the same as a hug.
In Christ,
Julie Tate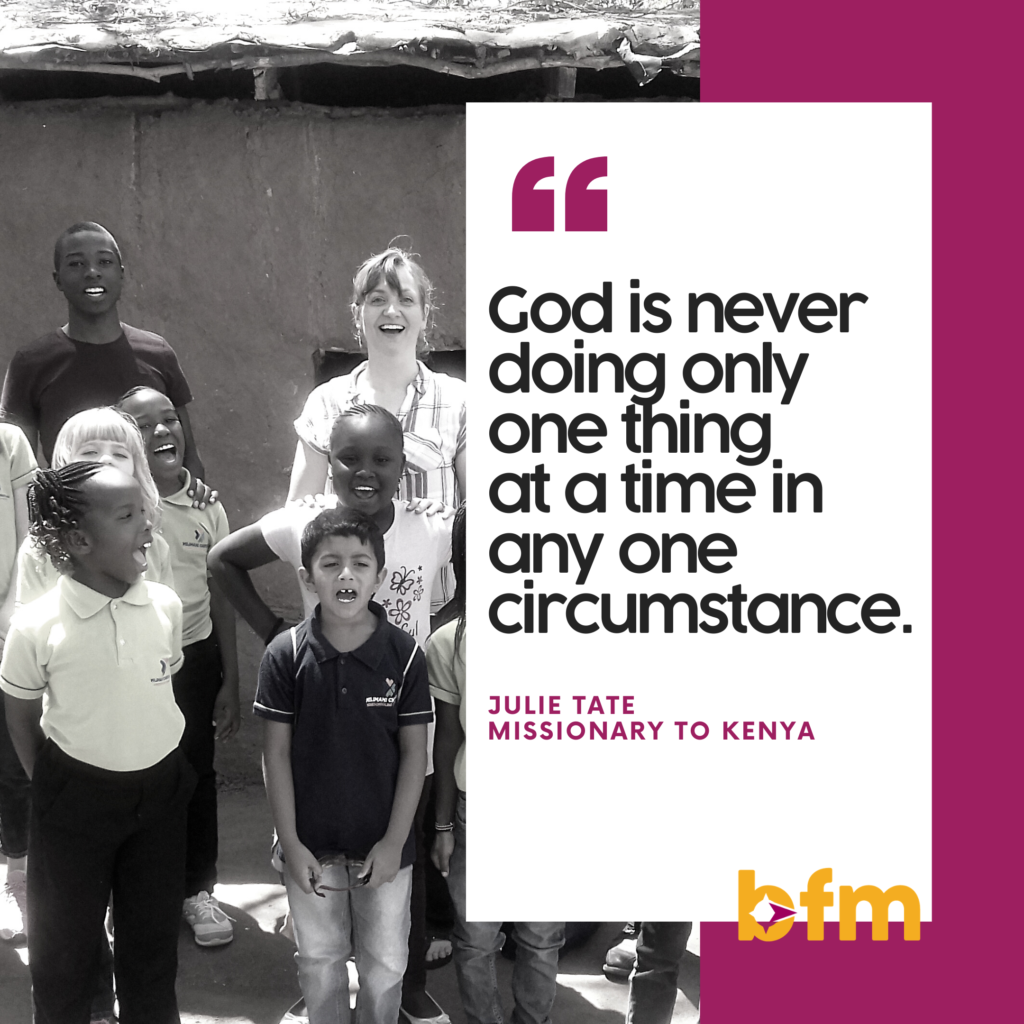 CONTACT INFO
Roger & Julie Tate
P.O. Box 96
Kitale, Kenya 30200
rojuta@gmail.com
For ministry donations:
Pastor George Sledd, Treasurer of BFM
P.O. Box 471280 | Lake Monroe, FL 32747-1280
or click here to donate to BFM online.
Read more
---