April 9, 2021
Beloved Brothers and Sisters,
I can't believe another year has come and gone…it reminds me of the phrase in the Bible, "…and it came to pass…." Just like many other euphemisms — "what goes up must come down," and "what goes around comes around"— it is also true that all things which come will also pass. Sometimes we feel stuck in current circumstances, but that's only our limited perspective. As the Alpha and Omega, God sees the beginning from the end. Not only do all things have a set time, they have set purposes as well.
Milimani Christian Homeschool Community's time has passed. This was both a relief and something I grieved deeply. People here in Kenya who know me well know that I poured 150% of myself into MCHC. I loved (and still love) the children and the teachers deeply, and I found great joy in helping all of them academically and spiritually. I loved discipling the teachers, not only in teacher training and opening their hearts and minds to children with learning challenges and differences, but also in their walk with the Lord. I loved talking about and demonstrating the love of Jesus to children from different walks of life – children from Christian homes, nominal Christian homes, and even a Hindu home. I loved watching children who were bitter bullies blossom into caring friends. I loved watching our neuro-diverse children find joy and confidence in a learning environment that treasured them and helped them find their strengths without belittling their challenges. I loved watching children learn to accept one another's differences while finding their commonalities, even among different ethnic backgrounds. I can't begin to tell you what a joy it was. I don't understand why it had to end the way it did; I can only say that it was a good and beautiful thing, and I trust God will continue to use that time in the lives of the people who were touched by it.
Having said that, it seems obvious that in the passing of MCHC, God had another great adventure planned…homeschooling and raising Chloe. Homeschooling and raising children are not new to me. Doing it for Chloe, however, is unlike anything we've ever done. Not only are we parenting and working with her academics, I find myself in the position of being her ABA (Applied Behavioral Analysis) therapist, her OT (Occupational Therapist), her emotional co-regulator (teaching her to regulate her own emotions by doing it physically with her), her advocate (and our own), and even a researcher to understand her and what she needs. This is more daunting than MCHC ever was, but everything I learned at MCHC, I am now applying at home. In fact, without my experience at MCHC, I would be quite ill-equipped. This is beautiful to me. You see, God is never doing only one thing at a time in any one circumstance. One of the things He was using MCHC for in my own life was training me to teach my own very special needs child. All this has pushed Roger and me beyond the limits of anything we feel capable of doing…or surviving. We're learning more about ourselves and our own hearts than we want to know, but even that is beautiful to me (usually…).
We can often feel stuck in our challenges, but from time-to-time God reminds me to step back and see all the struggles that have come…and have now passed. There is so much hope and growth. Chloe's academics have really taken-off in her homeschooling environment. A friend of mine from the US with a Master's degree in Special Education is here and has done some evaluations with Chloe. She's told me that Chloe is actually quite intellectually gifted. She loves to read, her math facts are like muscle memory (when she's relaxed and can access them), she has an amazing memory both verbally and visually, and she loves music and cooking. In fact, she just loves learning and has a super cute sense of fun and humor to boot. I am so thankful to have her in an environment that won't squash that.
She does have challenges though, and I would ask you to pray for us as we research and find help for her in these areas. Autism often comes with other issues…a lack of ability to regulate her emotions (thus the scars up and down my arms), difficulty with social communication despite an extensive vocabulary, and severe anxiety due to sensory processing disorder and nervous system overload creating flight or fight reactions (usually fight…). In Chloe's case, her neuro-developmental psychologist has told us she also has attachment insecurities and food insecurities (from babyhood before she came to us), as well as dysgraphia, mild dyslexia, and dyspraxia. This a condition in which the communication between Chloe's brain and her muscles gets mixed up causing fine and gross motor skill difficulties. Basically, her muscles don't know how to do what her brain tells them to do. This also affects her speech.
I really appreciate your love and prayers for our family. Please continue to pray for our kids in the US as well: Emily and Igor, Amy, and Josiah. It's hard to be "stuck" in Kenya with no hope of being able to see them anytime in the near future. We miss them terribly, and though we love the gift of being able to have video calls with them once a week, it's just not the same as a hug.
In Christ,
Julie Tate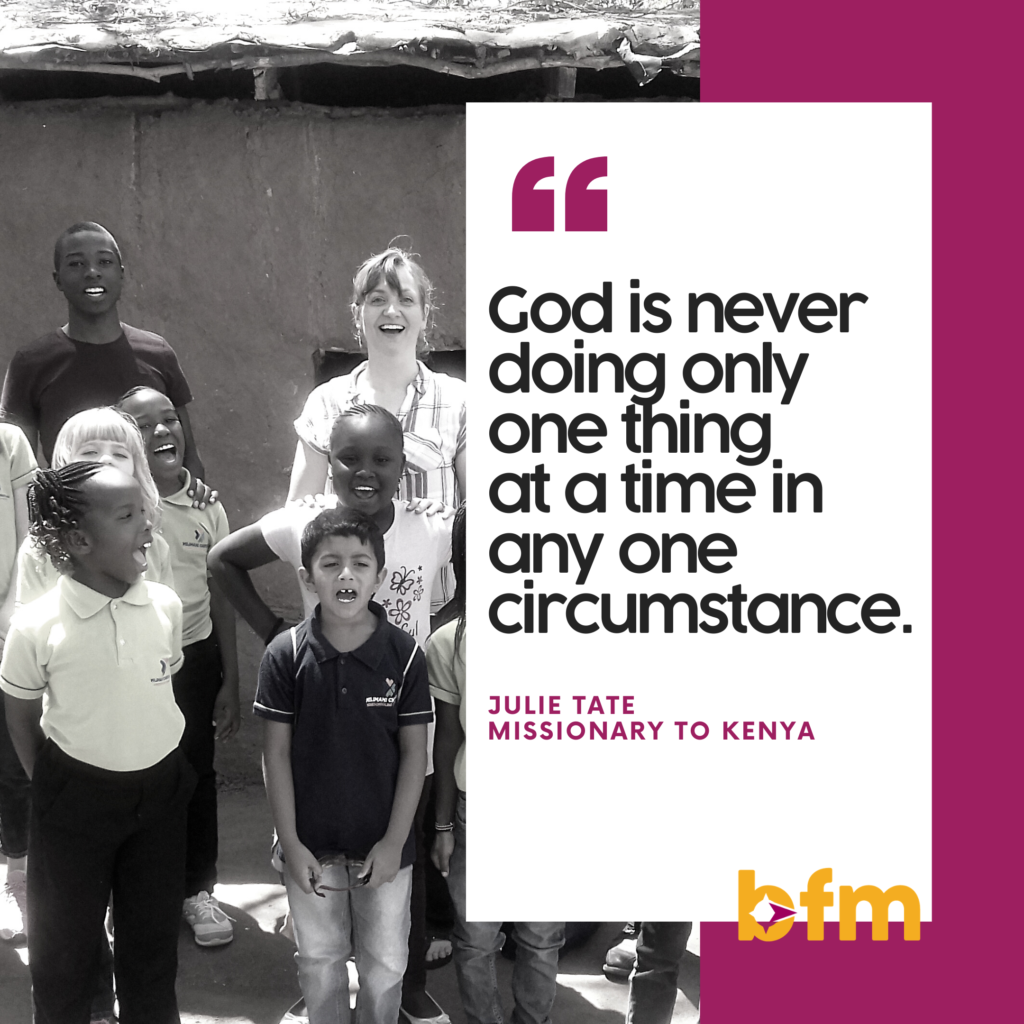 CONTACT INFO
Roger & Julie Tate
P.O. Box 96
Kitale, Kenya 30200
rojuta@gmail.com
For ministry donations:
Pastor George Sledd, Treasurer of BFM
P.O. Box 471280 | Lake Monroe, FL 32747-1280
or click here to donate to BFM online.
Read more
---

Beloved Brothers and Sisters,
I write this letter sitting in my living room – where I have been doing a LOT of sitting (not unlike many of you!). It's been many weeks now since the whole world basically shut down because of COVID-19, and while I can say I think we've settled in a little bit, nothing quite feels normal. I feel a bit like Inigo Montoya in the Princess Bride when he says to the Man in Black, "Let me esplain. No, there is too much…let me sum up."
Like most people, I've struggled with fear and uncertainty. There are so many unknowns. Just like in the US, schools are shut down here as well as all social/religious gatherings. It's been bad timing in some ways (though I have to remind myself often that God's timing is never bad). Milimani Christian Homeschool Community was – truthfully – a struggle, but we had a young lady who is a special education teacher from the US who was getting a work permit to come take over that aspect of our school (a huge load off my shoulders). We were starting to get the hang of the high school, our dyslexic girl was reading and spelling, and our autistic boy was finding his stride and showing mathematical gifting. It's very possible that COVID-19 is going to totally wipe out MCHC because of financial constraints. This in turn affects the chapel because we rent the MCHC building on Sundays. No MCHC, no building.
There have been a lot of changes at home as well. In all honesty, you all in the US have a lot more change to adjust to than we do here. There is never much to do around here anyway, and we often suffer from boredom. April is a month off of school in Kenya anyway; but there are many unanswered questions. Will MCHC survive? Will Chloe's school survive? Will school even open back up in May? Likely not. Josiah's school, Rift Valley Academy, is NOT opening up at all for the remainder of the school year (which ends in July). Instead, they will have an on-line platform. We didn't know this, however, when Josiah and the other students were released from school two weeks early. He may never see his friends again; he may never see the campus again (which he loved). He doesn't get to say good-bye.
Chloe, as usual, has had a difficult time adjusting to the change. Her behavior became aggressive enough that we had to consult her doctor. Being all "trapped" at home together without any reprieve has been a challenge to put it mildly.
Doing COVID-19 in Kenya has some additional psychological challenges, however. Currently, we have more deaths from police violence than we do from the corona virus. Forced isolation into some of the isolation facilities has been a nightmare. People are crowded together sharing the same facilities and even going hungry in some cases. Those who get a positive result have not always been removed from the group as a whole in a timely manner, and those who test negative after 2 weeks have not always been allowed to leave without paying a bribe. Who wants to get tested under those circumstances? Travel in and out of Nairobi is prohibited, so even if we wanted to fly out, we would not be able to (also because Chloe wouldn't be allowed to leave, and we won't leave without her).
HOWEVER…God is the Master at taking difficult things and working them together for the good of His people. Here are just a few ways I see God working.
1. We were growing increasingly unhappy with the culture at RVA. I am really excited to have this time with Josiah – time we weren't expecting and that we are very thankful for.
2. I know of two precious local families right now who have been struggling with family issues. This has forced them to spend time together at home because they don't have the escapes they usually have in town or at work. It's been good for them (not always easy, but good).
3. I've been able to work on some of the academic things Chloe was struggling with at school. I've been able to help her with letter reversals, and she's even starting to do some very preliminary reading and spelling.
4. Not being at work all day has helped me get back into a daily morning time of Bible reading and prayer – something I had been deeply missing.
5. Not knowing what is going to happen with MCHC has helped me see where some boundaries need to be set and where some of my priorities need to shift if MCHC does survive.
So, that's where we are currently at. Here are some specific things you can pray for on our behalf. These are not in order of importance. First for the health of my family. I suspect we may have already had the virus, but there is no way of knowing for sure. Anyone with flu-like symptoms has the potential of being removed from their home and put in an isolation center. Second, that our financial situation stays somewhat stable so we can pay our rent. We have a good landlord, but there are no protections here like there are in some places in the US. Third, that our faith in our Good, Good Father would grow, that our love for Jesus would build up and effervesce onto others around us, and that we would draw nigh to Him in new and fresh ways. Fourth, that we – as a family – would find new and creative ways to invest in each other during this time of increased "forced togetherness."
In Christ,
Julie Tate
Contact Info:
Roger & Julie Tate
P.O. Box 96
Kitale, Kenya 30200
rojuta@gmail.com
For ministry donations:
Pastor George Sledd, Treasurer of BFM
P.O. Box 471280 | Lake Monroe, FL 32747-1280
or click here to donate to BFM online.
Read more
---