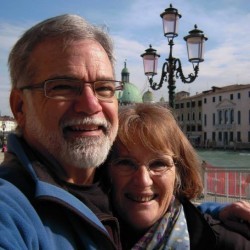 June 9, 2022
Dear Brothers and Sisters,
Judy and I are thankful to be serving the Lord in teamwork with you. As reported last month my Dad John A. Hatcher went to be with the Lord exactly two weeks after his 97th birthday. Judy and I were able to be with him and care for him just a couple of months before his move to the presence of the Lord.
It was a blessing to see many of our extended family that we had not seen for years and to see the work of God in the lives of many of them. It was also a blessing to see a number of our friends including several who serve with us in association with Baptist Faith Missions.
Just after completing our trip to the US for Dad's funeral Judy and I came down with Covid. We have begun feeling better the last couple of days but have a way to go. It was very nerve racking getting tested less than 24 hours (as required by the US rules) before our trip to care for Dad and then the funeral trip. However, the Lord, who is over all things, kept us from getting Covid when it would have kept us from helping those He wanted us to help.
This weekend, Timo, a young man who has been coming to Sunday School and church meetings since grade school is following the Lord in baptism. He has invited 14 of his friends to come. It is amazing to hear his confession of faith and see his spiritual growth.
Next month a lady who is 80 years old is getting baptized. We like to see the young and old come to Christ!
I am including the letter Judy wrote at the beginning of May that will help you see the past year from her perspective.
(Click here to read her letter.)
May God bless each of you,
John
Contact Info:
John & Judy Hatcher
4, rue d'Aspin
31170 Tournefeuille, France
JMHatcher@aol.com
Present USA phone 1-812-416-1033
For ministry donations:
Pastor George Sledd, Treasurer of BFM
P.O. Box 471280 | Lake Monroe, FL 32747-1280
or click here to donate to BFM online.
---