January 10, 2021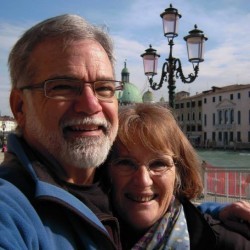 Dear Fellow Exiles,
We just finished the Sunday meeting with our church in France, morning here but evening there. Being able to meet electronically with them is a great blessing. Today was the beginning of a new series of messages from God's Word, "Exiles in our World". Philip suggested that we make this our next series as God's people are clearly presented in the Old and New Testament as pilgrims in exile.
This morning we looked at the outstanding encounter of Elijah with Ahab, Jezebel, the prophets of Baal, and Yahweh on Mt. Carmel and Mt. Horeb. You might like to reach I Kings 18 and 19 and meditate on the wonderful lessons we learn about God's love and interaction with us in the midst of the calling we have received. It is very applicable to the times in which we live.
And, speaking of times in which we live. What a year 2020 was globally and personally. Judy's sister Peggy left us to be in the presence of the Lord in the wee morning hours of December 24. Our children and grandchildren who live in the USA were here for an early Christmas celebration on Tuesday, December 22. This was the last day that Peggy was cognizant of her surroundings here on earth. Our family in France had Zoom time with us singing Christmas carols to Peggy. A little later, all who were here sang hymns to Peggy for about an hour. Peggy would join us singing a word or two in her breathless state. She is now singing in perfection.
Peggy had a passion to help the needy and loved reaching out to children. She actively served in these areas. Her life touched many who she is now with and others who will join her in the presence of the Lord because she was a witness to them of Jesus Christ.
Thank each one of you who have expressed your concern and love in many different ways. We are now working hard at wrapping up the physical and legal matters so that we can be back in France soon. It is our to hope to be there within the next couple of months. God has manifested His presence in many different ways and things are going well.
Thank you for your prayers now and during the past months.
May God display Himself in all of us during this year and until our Lord and Savior returns for us.
Your fellow pilgrim exiles,
John and Judy
Contact Info:
John & Judy Hatcher
4, rue d'Aspin
31170 Tournefeuille, France
JMHatcher@aol.com
Present USA phone 1-812-416-1033
For ministry donations:
Pastor George Sledd, Treasurer of BFM
P.O. Box 471280 | Lake Monroe, FL 32747-1280
or click here to donate to BFM online.
---