Posted on 5Feb CATEGORIES: General, John Mark & Judy Hatcher [France], Letters Tags:Tags: France, Jean-Luc, John Mark Hatcher, Judy Hatcher, Mireille, religion versus faith, share the gospel0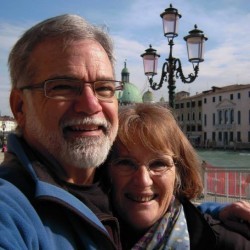 February 5, 2022
Dear Fellow Servants of Christ,
We thank God that you are a part of our team as we seek to communicate the Good News of Jesus Christ and make disciples here in France. Many in our assembly are touched by Covid and other medical issues but our Lord and Savior is not stymied by the apparent problems of this fallen world.
Three months ago, we mentioned in our letter to you the beginning of English conversation meetings. One of the participants, N—–, is a lady that we met in our daily trekking. Last week she was the only one able to be present as the others had conflicting obligations. It was God's appointment for her to hear the Gospel. On the Catholic calendar it was the day celebrating the presentation of Jesus at the Temple. Judy mentioned this and it opened the door for which we had been praying.
This lady came from a typical non-religious French family in Brittany. However, they sent her to a Catholic school because of the higher quality education. The religious teaching convinced her that there is a God and she became a practicing Catholic. She is frustrated that her daughter has not had her children baptized. This opened the door to talk about our Savior and the difference between religion and faith. We showed her the Sunday School room and the invited her to participate in Bible studies.
About a month ago we received a phone call "out of the blue". It was Mireille, who along with her husband, Jean-Luc, moved into our neighborhood when we had only been here a few years. If you have been supporting us for a long time you may remember that early on she announced that she was and always had been an atheist. We had conversations with them nearly every day. About 8 years after we met them she excitedly announced that she now believed that there is a God and that He had worked personally in her life.
Then, due to job changes, they moved to a neighboring city. Two or three years later we were invited to Jean-Luc's retirement and they moved hundreds of miles away to work as hosts at a vineyard reception Chateau where marriages and events are held. Judy had some contact with Mireille through the internet, and then this unexpected call. They have moved to a town about 50 miles from us and are anxious to host us for a meal. It was to be last week but had to be canceled because of Covid in their family.
So, the doors continue to open and we seek to walk through them to make disciples for Christ.
Thank you for your prayers,
John and Judy
Contact Info:
John & Judy Hatcher
4, rue d'Aspin
31170 Tournefeuille, France
JMHatcher@aol.com
Present USA phone 1-812-416-1033
For ministry donations:
Pastor George Sledd, Treasurer of BFM
P.O. Box 471280 | Lake Monroe, FL 32747-1280
or click here to donate to BFM online.
---
Leave a Reply