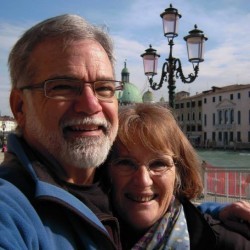 October 10, 2022
Dear Brothers and Sisters,
Judy and I hope this finds you enjoying blessings from the Lord. We are very grateful for what He has done in and around us this month. When the school year begins, our regular activities increase. There are seven regularly scheduled Bible studies that take place apart from regular church services. I lead only four of these. Three of these Bible studies began recently. Judy has children's Bible classes in the city of Campagne sur Arize while the adult study takes place. Meetings in this city began just a few months ago.
Many of you are aware that Bible studies have been a major tool in our ministry here. I was motivated to use this approach years ago through the reference to Paul doing so in the Book of Acts. The Bible studies are informal, but the goal is for people to see from the Holy Scriptures what God says. This is how most of the disciples here have come to Christ. After they trust Christ, they continue to grow as they continue to read, examine and follow His revelation in the inspired written word.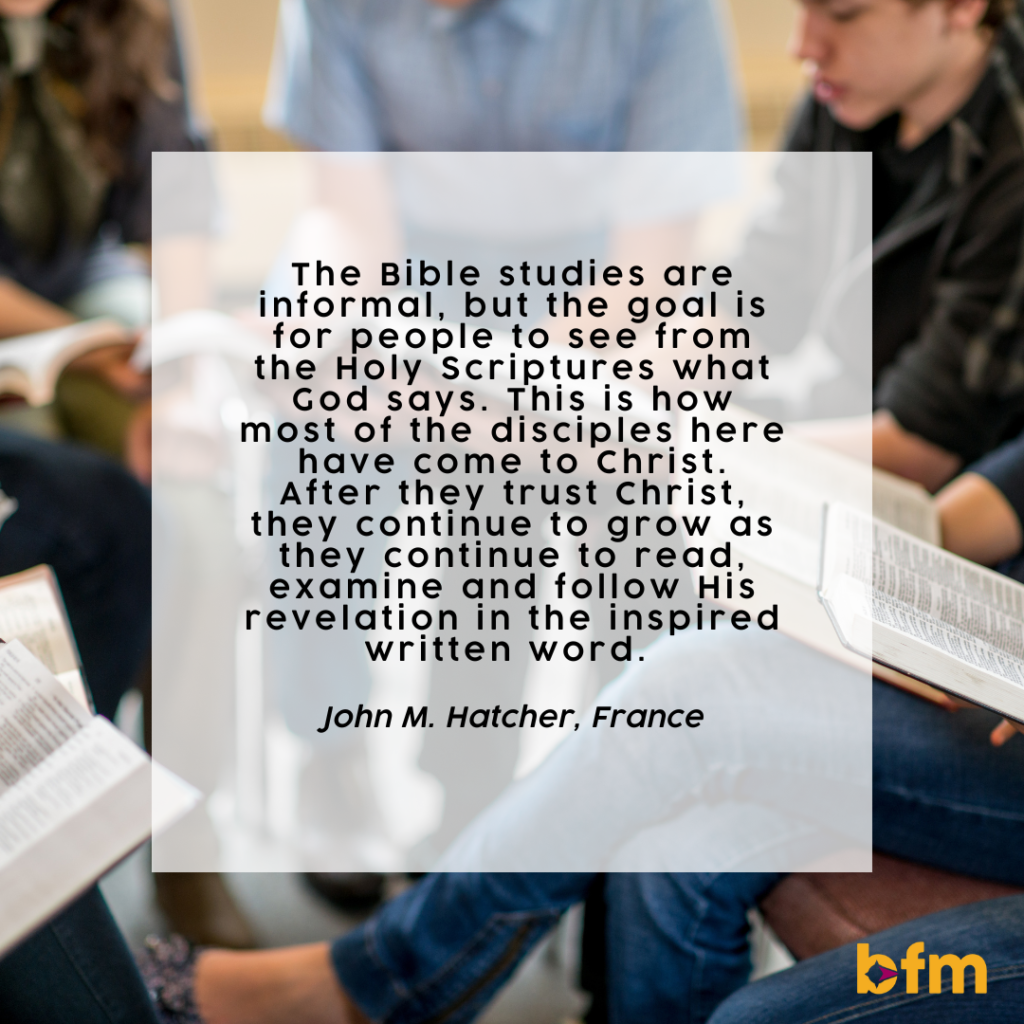 A new Bible study began last Thursday evening in the city of L'Union. We have prayed for an opportunity to start a Bible study in this city for a long time. There were 8 people at the first meeting. Most of the folks have little or no familiarity with the Bible. Besides Judy and me, one or two of the participants profess to be believers. Three of the participants are originally from Iran. Your prayers for these meetings are greatly appreciated. The couple who hosts these meetings in their home are not members of our (or any) church. The lady made a profession of faith as a child and her husband has Muslim origins but makes no profession of faith.
We are also thankful for the blessings of God displayed in the regular church and youth meetings.
God answers prayer. I will close with an interesting answer to prayer shared by a family in our assembly 2 or 3 weeks ago. They and the church along with them have been praying that God would enable them to become acquainted with people from the neighborhood into which they recently moved. Their desire is to share the Good News of Jesus Christ with their neighbors. This summer has been extremely hot and dry. Grass and many plants have died. A fire started in a yard of the neighborhood and through underground dead roots spread into several yards. Neighbors from many homes came out to fight the fires and the Veuillets from our church got to meet many of their neighbors!
Your fellow laborers,
John and Judy
Contact Info:
John & Judy Hatcher
4, rue d'Aspin
31170 Tournefeuille, France
JMHatcher@aol.com
Present USA phone 1-812-416-1033
For ministry donations:
Pastor George Sledd, Treasurer of BFM
P.O. Box 471280 | Lake Monroe, FL 32747-1280
or click here to donate to BFM online.
Read more
---
October 8, 2018
Dear Brothers and Sisters in Christ,
I hope you had an encouraging day with God's people yesterday as we did here. Our time of worship yesterday was very uplifting. Before Sunday School and teaching time, members of the congregation are invited to choose songs that God has brought to their minds and hearts. Between the singing of songs, the opportunity is given for the believers to read aloud scripture passages that God has used in speaking to them during the previous week. They are also encouraged to give witness of their gratitude for the way they God has worked specifically in their lives during the week.
This is our practice because God's word clearly teaches us to "…consider one another to provoke unto love and to good works: Not forsaking the assembling of ourselves together, as the manner of some is; but exhorting one another…" (Hebrews 10:24-25) and "speaking the truth in love, may grow up into him in all things, which is the head, even Christ: From whom the whole body fitly joined together and compacted by that which every joint supplieth, according to the effectual working in the measure of every part, maketh increase of the body unto the edifying of itself in love." (Ephesians 4:15-16)
On Sunday afternoons we have a church leadership meeting to discuss how we are seeing God at work and how we can best proceed to do what He has given us to do. We are very encouraged by the spiritual growth of the members of the congregation and the way they are applying God's teaching to their lives daily.
Besides Sunday School and worship there are a number of gatherings that take place during the week for learning and mutual encouragement. Here is what this week looks like: Tuesday morning, Judy participates in a ladies' prayer meeting that is hosted this week by Amanda in her home in Plaisance-du-Touch. Tuesday evening I lead a Bible study from Ephesians in a home in city of Pibrac. Wednesday morning Judy participates in a Bible study led by our co-worker Wendy in the city of Toulouse. Wednesday afternoon I have a live interactive Bible study on internet studying the Gospel of John. Thursday evening Philip is leading a Bible study in Job held in a member's home in the city of Cugnaux. Saturday evening Philip and Amanda host the Youth meeting in their home.
These meetings don't take place in a vacuum. Philip works as an engineer and will be in Sweden a couple days this week. Philip and Amanda's family is very active with four teenagers going to 3 different schools in three different towns and Amanda gives many piano lessons several days a week. All of us have other activities where we seek to contact unsaved people. We love it and wouldn't have it any other way. Disciples disciple. Last weekend our two older granddaughters, Abigail (17) and Nathalie (16) were at a rustic conference location. They along with two of their Christian friends implemented a Bible program they had put together for the entire weekend and took care of a dozen children ages 18 months to 11 while missionary friends of ours from Bordeaux had leadership training for the leaders in their church plant and outreach ministries.
God has raised up good teachers in our church. There are two ladies and two men in the church who also teach. There are folks who were saved here who now are active as members and teachers in churches in other countries. What a joy to serve here and have you as our ministry partners. Please pray for us. Pray for God to help us to be effective in communicating the Good News of Jesus Christ and continue to make disciples who will also make disciples.
In God's field in France,
John and Judy Hatcher
John Mark & Judy Hatcher
4, rue d'Aspin
31170 Tournefeuille, France
JMHatcher[at]aol.com
For ministry donations:
Pastor George Sledd, Treasurer of BFM
P.O. Box 471280
Lake Monroe, FL 32747-1280
or click here to donate to BFM online
Read more
---