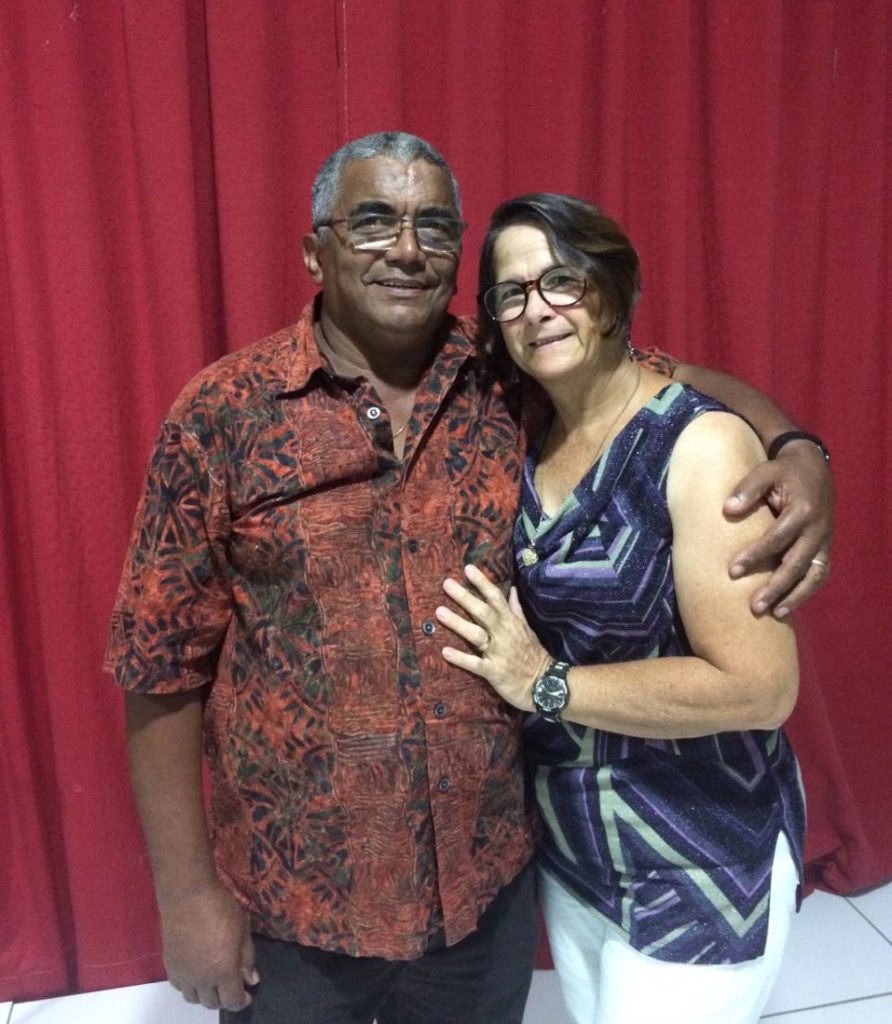 Dear brothers and sisters,
I pray that all of you are well. The world is going through hard times but we know that our Lord and Savior is in control.
We are all doing well and adapting our life to the times in which we are living. Through this situation, we have been able to help different people with some of their needs. We stay in contact with our people by internet and send messages and Scripture to the people.
We went and gave fish to many people. And also we went and delivered some basic foods that were given to a member of the church to donate to whoever needed the food.
I really miss going to Ubim and having my time with the kids and having our studies. The other day when we went to take some food to the Indian tribe, I saw the kids from a distance. The chief was the one who came to receive the food. The chief asked, "Who is Kathy?" I said, "It's me." He said, "The kids are over there calling you. They said to say 'Hi'." The Lord willing, we will be back to normal soon.
The Indian chief in a canoe

The Indian tribe from a distance
I have been working with some of the young girls from the church and training them to work with the kids at church. It has been great to be with them. Pray that God will help them to grow more and more each day. They are new converts and were not brought up in church, so I work with them with their spiritual growth and with developing their abilities with working in Sunday school.
One of the difficulties in this area is the distance that people live. So everything takes time to make things work. Not everyone in the church has transportation, which makes things a little harder at times.
I thank each of you for your prayers and support. Pray that God will continue to allow me to serve Him and open new doors in new communities. We are still planning to do mission trips on the river. When I was a child I went on many trips with my parents. It was fun! I can't wait for us to be able to go on our first trip. Pray for this also.
God bless each of you!
Kathy Barros
Contact Info:
Iranduba, Amazonas
Brasil, SA
odali_kathy@hotmail.com
For ministry donations:
Pastor George Sledd, Treasurer of BFM
P.O. Box 471280 | Lake Monroe, FL 32747-1280
or click here to donate to BFM online.
Read more
---

Hello praying friends,
I have to say that I am writing this letter in the oddest moment in my life. Coming to Brazil in my early twenties was a very different experience from what I grew up with. Adopting two children and raising them in two languages and cultures was exciting, but offered its challenges. Standing by my husband, Bobby's, side as he helped to care for his aging father after his mother's death and then returning to Brazil was an unexpected turn of events. But, living under quarantine conditions during a Pandemic is certainly the most thought-consuming event that I have ever experienced.
We received travel alerts from the U.S. Embassy in Brazil that we had to make a decision soon about returning to the States because all commercial flights would be stopped and there was no way of knowing for how long the travel ban would last. Both of our children and our only grandchild live in the USA and we don't know when we'll be able to visit with them again. But we do know that God has called us to minister here in southern Brazil and that He is using this pandemic to open doors of opportunity to share the gospel that we have never seen before. Besides, we thought to ourselves, what kind of a message of faith and love would we be giving if we packed up and left because of negative circumstances? We are so glad that we have stayed. Bobby has had to learn to "pastor" the congregation through social media only. That is quite a challenge for him because he loves to interact with people on a physical level.
There are three texts of Scripture that comes to my mind that comfort me in the middle of all this: Deuteronomy 32:10-12; Psalm 17:8 and Matthew 23:37. In all three, the image that is conveyed is that of a mother bird using her wings to protect her babies. In that, I picture God in His great love and power caring for and protecting us in all our struggles.
There is the struggle of being bombarded daily with scary news reports about the spread of the COVID-19 virus. In fact, one member of our church's daughter caught the virus and the member herself is in the group of high risk. She is her late sixties and she has been through chemotherapy. Several of our church members have lost their jobs and others have lost a significant amount of their normal pay. What is exciting and encouraging is to see how our people have stepped up to put into practice the principles of God's word that we seek to teach and exemplify. Without having to tell them to do so, some have called to let us know that they are willing to buy groceries for anyone needing them. Some have had to continue working because their jobs are considered "essential," and at the same time they are exposed constantly to the risk of the virus and have to come home to their families.
I am challenged constantly to look past these circumstances and focus on the promises that God has given to use them all for my good and His glory. I know He will continue to care for me, even more than a hen cares for her chicks.
I do ask that you would pray for us to be wise and faithful in ministering in this new "environment".
Yours in Jesus' love,
Charlene Wacaser
Contact Info:
Rua Laudelino Ferreira Lopes, 279
Sobrado 1, Novo Mundo 81050-310
Curitiba, PR. Brasil
Phone: 55-41-99899-2333
bobbymichael_1@hotmail.com
For ministry donations:
Pastor George Sledd, Treasurer of BFM
P.O. Box 471280 | Lake Monroe, FL 32747-1280
or click here to donate to BFM online.
Read more
---