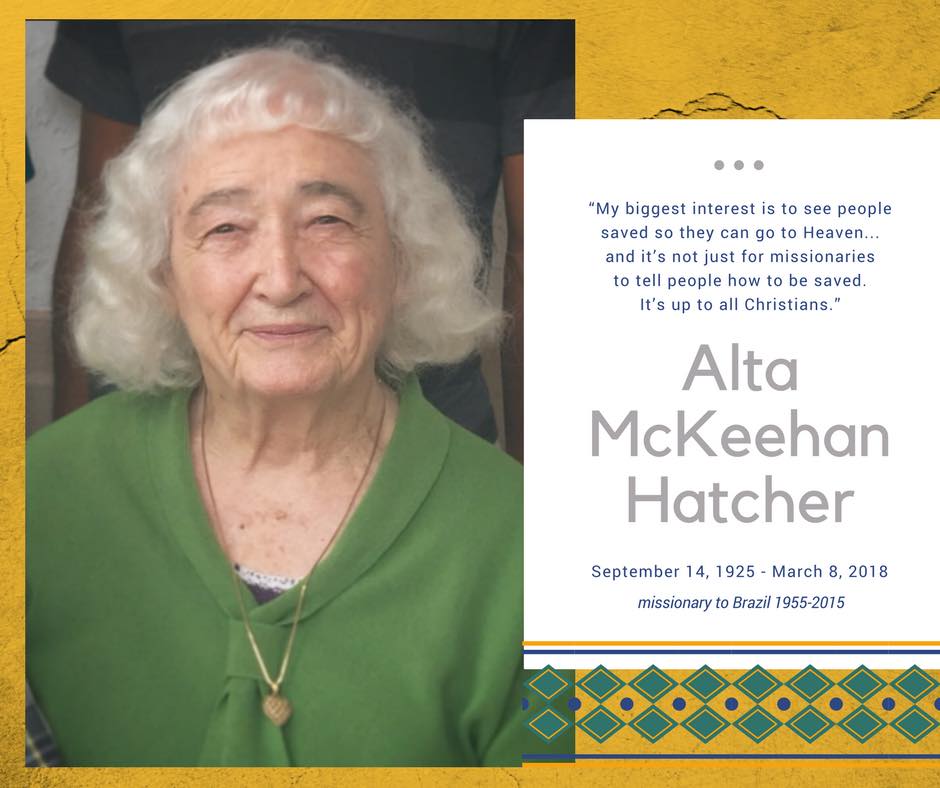 "…'Well done, good and faithful servant; thou hast been faithful over a few things, I will make thee ruler over many things: enter thou into the joy of thy Lord.'"  -Matthew 25:23
Alta Hatcher, one of our beloved missionaries to Brazil, was promoted to Heaven about 6:00 a.m. on Thursday, March 8, 2018.
Alta married John A. Hatcher in December 1947, and they spent 70 years serving the Lord together, 60 of which were in Brazil. "We are thankful to God for having the joy of serving Him and telling people how they can be saved and go to Heaven," Alta wrote in her autobiography. From 1955-2015, they worked and planted churches in about 60 Brazilian cities.
God gave them five children: Lynn, Paul, John Mark, David, and Kathy. He called all to be missionaries in foreign lands except the oldest, Lynn. She and her husband were missionaries to those with special needs in a Church in Nashville, Tennessee. Their 21 grandchildren are also serving the Lord! Some as pastors and others are missionaries some of the granddaughters are married to pastors or missionaries. Several of their 35 great-grandchildren have already trusted Jesus as their Savior.
Please continue your prayers to God for her husband, John, and their family.
ARRANGEMENTS / MEMORIALS
Celebration service: Thursday, March 15, 2018 at 5:00pm
The Celebration Service will be conducted at Chapel Baptist Church, Clermont FL
15744 County Road 474 | Clermont FL 34714
www.chapelbaptist.org

They are expecting all of her children to be attending [Please be praying that God will grant all of them peace, joy, and safety as they travel…]
Becker Funeral Home, Clermont FL, is in charge of her services
www.beckerfamilyfuneral.com
Formal Obituary
In lieu of flowers, the family is requesting that Memorial gifts be made to Baptist Faith Missions "In memory of Alta Hatcher"
Pastor George Sledd, Treasurer of BFM
P.O. Box 471280
Lake Monroe, FL 32747-1280
or click here to donate to BFM online.
https://baptistfaithmissions.org/Donate_to_BFM.aspx

Correspondences to John A. Hatcher may be sent to:
15905 Mercott Court | Clermont FL 34714
Email: jhatcher1925@gmail.com
Click here to read the Autobiography of Alta Hatcher: "The Story of My Life as a Missionary"
"Disse-lhe o seu senhor: Muito bem, servo bom e fiel; sobre o pouco foste fiel, sobre muito te colocarei; entra no gozo do teu senhor."  –Mateus 25:23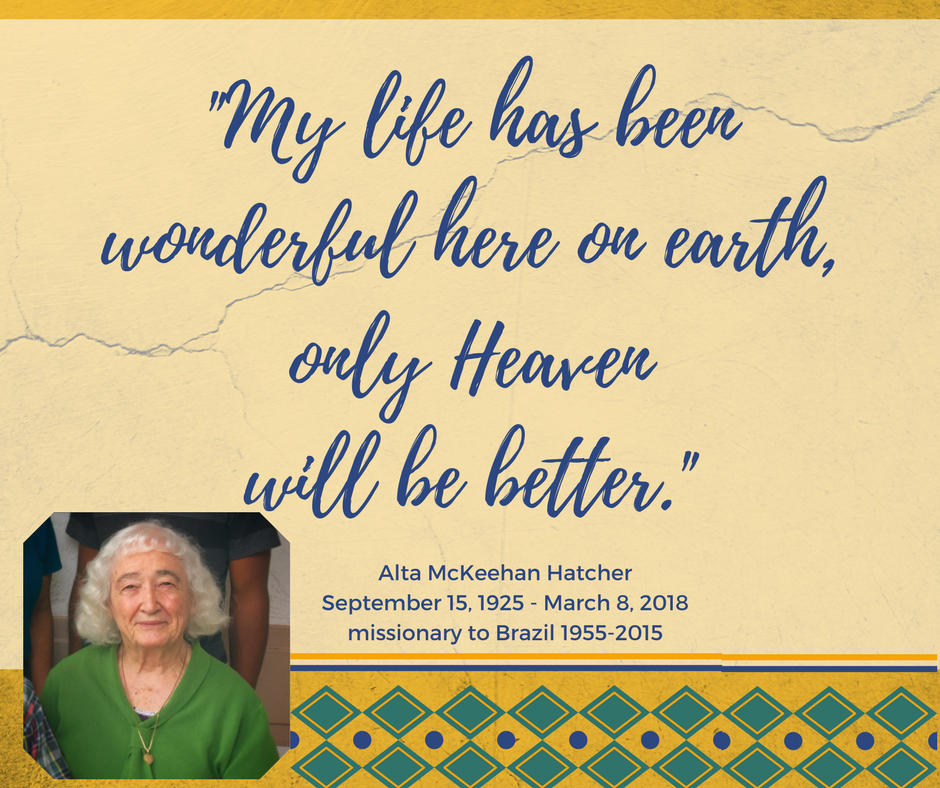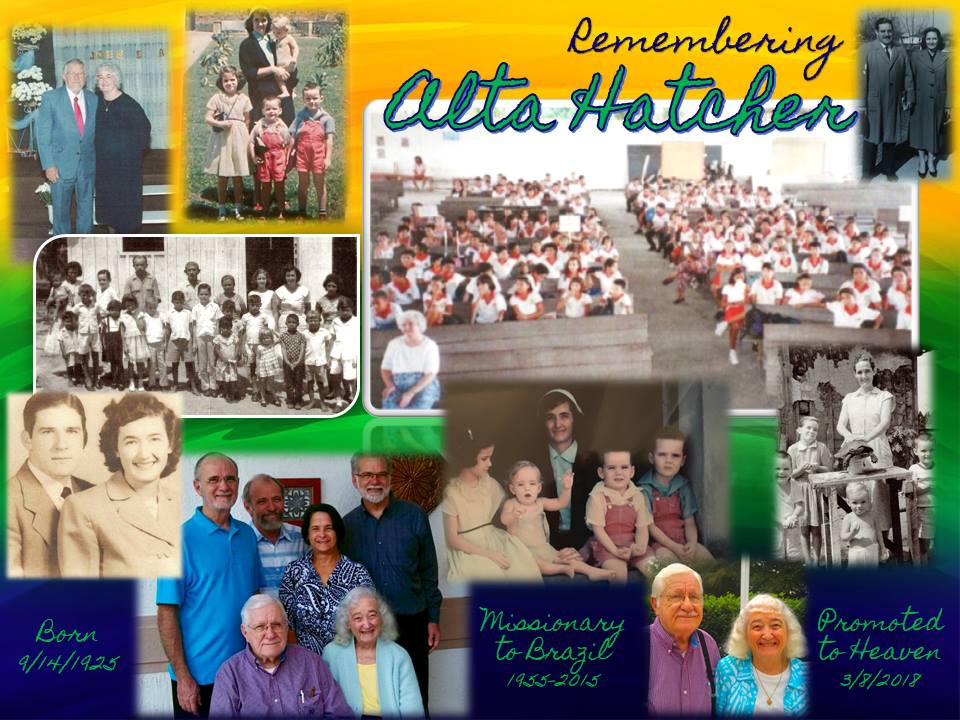 ---