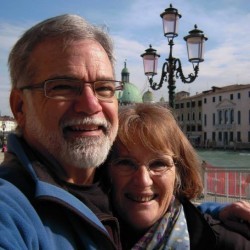 May 5, 2022
Dear Brothers and Sisters,
….."but they that wait upon the LORD shall renew their strength; they shall mount up with wings as eagles; they shall run, and not be weary; and they shall walk, and not faint."
One year ago this week, John and I returned to our home in France, after spending almost 2 years in the states with my sister, Peggy. We were thankful that we could be there to walk with her through the difficult days of illness. It was heartbreaking to watch as her body faded, yet found rest and peace in the knowledge that, as she faded here, she would rise perfected and whole in the presence of our Savior!
We returned to our home that was made spic and span by our church family here. How blessed can we be?! France was still in partial lock down from Covid, so our movements were somewhat restricted. However, our friends and family made our re-entry here warm.
Our year has been filled with "renewals". Church meetings…after attending via Skype (for which we were grateful). What a blessing to sing together, pray together, share blessings, share heart needs, study together, in the skin! Our recent study has been on how to be the light in a dark world.
Youth meetings…how invigorating to meet, play, eat, and discuss God's word with teens! Most are ones that have come over the years, so we are blessed to see their growth and commitment.
Bible study group in Mazères…we are encouraged and blessed as we see the quiet growth and expansion of the gospel in this little town, mainly through the dedication of a single Christian lady who lets her light shine. Several have been saved as fruit of the group that meets at her house. Last meeting our hearts soared as an 80…something year old friend just started sharing verse after verse that God had used to "carry her through".
Old friends…after three times of being cancelled by Covid, we were able to share a meal and afternoon with a couple who are former neighbors. We count each other as dear friends. We continue to pray that they will commit to Christ.
New encounters…just out for a daily walk brought about a weekly English conversation meeting where we have been able to discern their spiritual needs and share Jesus.
The more I write, the more I'm reminded of God's goodness to us over the past year, however, I'll stop as I'm sure your eyes are tired!
The verse thought at the beginning of this letter is actually the conclusion of a declaration that begins in the preceding verse, "Even the youths shall faint and be weary, and the young men shall utterly fall… but…". Today, if you're tired, weary, I want to assure you, renewal will come!
Thank you for being a part of God's work here in France.
Judy Hatcher
Contact Info:
John & Judy Hatcher
4, rue d'Aspin
31170 Tournefeuille, France
JMHatcher@aol.com
Present USA phone 1-812-416-1033
For ministry donations:
Pastor George Sledd, Treasurer of BFM
P.O. Box 471280 | Lake Monroe, FL 32747-1280
or click here to donate to BFM online.
Read more
---
The Spring Conference came to a close tonight with hearts stirred for the work of the Lord to be revived. 
The final session opened with two congregationals: Blessed Assurance and And Can It Be? followed by three specials: Be Thou My Vision, His Eye Is On the Sparrow, and I'm Feeling Fine.
Pastor Richard Westfall from Hardman Fork Baptist Church in Normantown, West Virginia, brought the final message from Nehemiah 4:1-6. Before he got into the text, he shared how the Lord has taken him to school over the past few years by facing some health problems of his own and also by waiting by his son's bedside 29 days in ICU after an auto accident that left him with a traumatic brain injury. "Sometimes in this life all you have is your faith–and that's enough." God answered the many prayers of his children to restore Bro. Westfall's son! 
Sometimes in little churches, preachers feel almost like Hospice workers instead of pastors. It may be that the Lord has paused, but He's not quit working. It's not His fault if things aren't getting done. 
"For the people had a mind to work." –Nehemiah 4:1-6 
When we wonder why the work is slow, could it be because we've become weary in well-doing? We must guard against becoming weary. Sometimes we don't feel like we're making a difference. But we ARE making a difference. His Word won't return void. The problem is, we have become so obsessed with the results we think we ought to get. The Lord has not called you into the work to have results. His work will ALWAYS have results if we faithfully do what He has told us. His work will always accomplish something. 
We must deal with wrong thinking. You've got to get your mind right! 
Ways to get your mind right so you can continue in the work: 
Pray for God to rekindle our zeal. May God help us all to revive His work in us. 
After singing Rescue the Perishing, Pastor Dave Parks reminded us that the real effect of the conference is what we do tomorrow. We expect our missionaries to write and report what they're doing–what if it were reversed?

Oh may God revive His work! 
Read more
---