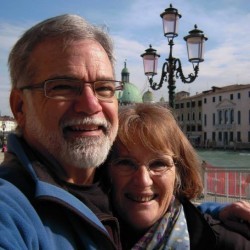 August 16, 2021
Dear Brothers and Sisters,
Our hearts are touched by the news that some of your families are touched by death and illness. It underscores part of our text from the message to our congregation yesterday, "…now our salvation is nearer than when we first believed. The night is far spent, the day is at hand. Therefore let us cast off the works of darkness, and let us put on the armor of light." We are daily reminded that we live in a dark world, but need to live in the reality of Jesus Christ, the Light of the world and our Eternal life.
Yesterday, a young lady from our congregation sent a text just as service was beginning. "Sorry, I can't be with you. I found out yesterday that I have Covid." This eighteen-year-old is the only member of her family who has trusted Christ and she was to leave today to go to Lyon to begin university studies. She is the daughter of neighbors and began coming to Sunday School about the time she started grade school. As she entered her teens, she made a public profession of faith and followed the Lord in baptism.
Let me set the scene for another event yesterday. One of our members has a husband whose parents, professing atheists, died when he was quite young. He had no Christian background. Two children were born to this couple and he, along with his family, regularly came to church. Considering his refusal to place his faith in Christ, his attendance for eight years was unusual. He had a good relationship with the men of the church, and we all prayed for his salvation. About two years ago he posted a note on the church communication site letting everyone know that he would not be coming to church anymore and did not want anyone to approach him about it.
Yesterday, I about fell off my feet as I was greeting people and saw this "I'm not coming anymore…" man walking from his car to the house. Would you pray with us for …oan..'s salvation?
A week ago, Judy and I drove about a 1000 miles round trip to St. Malo to spend a couple of days with a couple, members of our congregation, who moved to Brittany a couple of years ago. They are nearly our age. We had a good visit and were happy to hear that they are considering starting a church in their home. Please pray for God to give Dennis and Marianne God's wisdom about this.
Thank you for your interest and support. May our Lord's blessings be evident to you today.
In His Grace,
Judy and John Hatcher
Contact Info:
John & Judy Hatcher
4, rue d'Aspin
31170 Tournefeuille, France
JMHatcher@aol.com
Present USA phone 1-812-416-1033
For ministry donations:
Pastor George Sledd, Treasurer of BFM
P.O. Box 471280 | Lake Monroe, FL 32747-1280
or click here to donate to BFM online.
Read more
---