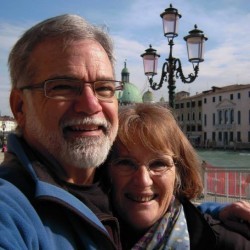 March 17, 2022
Dear Co-Laborers in Christ,
We hope this finds you enjoying the presence of the Lord in your life. Judy and I just returned from Florida where we spent just over three weeks taking care of my dad while my brother Paul recovered from a hernia surgery—a hernia brought on by physically managing the care of our father. We are grateful beyond words for the care that Paul and Wanda continue to joyfully give. After forty years of service in Brazil they moved to the USA to care for Mom, Dad and Wanda's mother. The two mothers moved in the presence of the Lord four years ago. Dad and Mom were missionaries serving with support through Baptist Faith Missions for 60 years in three different regions of Brazil. Dad is now very limited mentally and physically.
God has continued to work through His people here in France. Three weeks ago, Timo, an eighteen-year-old young man, contacted Philip indicating that he wanted to follow the Lord in baptism. He has been coming to church activities along with his family since he was in grade school. Timo has clearly expressed his faith in Christ for the last few months and grown spiritually in a very evident way. This is a great encouragement to us.
Some have asked us how far we are from the events in Ukraine. There are about two thousand miles between us and the ongoing conflict. Thank you for your concern and remember to pray for believers who are on site and people who need Christ in Ukraine and Russia.
Thank you for your faithful support in many different ways.
Your brother and sister in Christ,
John and Judy Hatcher
Contact Info:
John & Judy Hatcher
4, rue d'Aspin
31170 Tournefeuille, France
JMHatcher@aol.com
Present USA phone 1-812-416-1033
For ministry donations:
Pastor George Sledd, Treasurer of BFM
P.O. Box 471280 | Lake Monroe, FL 32747-1280
or click here to donate to BFM online.
Read more
---