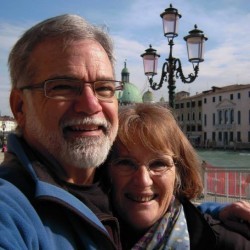 September 9, 2022
Dear Co-Laborers,
Thank you for your faithful support in many different ways. Compared to last month this one has been relatively quiet. We enjoyed having Lydia and Adam (our daughter and son-in-law) along with their children with us for nearly a month. These rare moments with family are a great blessing.
One day when Judy was at the grocery store near our house along with one our granddaughters, she was stopped by a young lady who had heard them speaking in English. This lady has a son in grade school, and she wants him to become proficient in English. They set up a time to come by our house while our grandchildren were still here. Judy has had continuing contact and walks with this lady. God opens doors for us to have relationships with people with whom we can share the gospel.
One of the ladies in our church is a chiropractor and a people magnet. She called me the other day because one of her patients had approached her seeking information for her daughter's sake. The patient said that her 12-year-old daughter wanted to get baptized. The family has no religious practice. The request is interesting considering the fact that only about 2% of French people are practicing Catholics, less than one half of a percent are evangelical believers. I do not yet know what instigated this desire in the girl. The mother told Anaelle, the chiropractor from our church, that she had approached her on the subject because she thought Protestants were more open than Catholics.
Anaelle called me to discuss the best way to talk to this lady and her daughter about baptism. The lady lives on the other side of the metropolitan area of Toulouse from us. Coming to meetings here would be quite a drive, but we are hoping to see her Sunday.
We are very encouraged with the Bible studies and hope to be starting a new one in a different city this month.
May God bless you and use you as His light where you are.
In His service with you,
John and Judy
Contact Info:
John & Judy Hatcher
4, rue d'Aspin
31170 Tournefeuille, France
JMHatcher@aol.com
Present USA phone 1-812-416-1033
For ministry donations:
Pastor George Sledd, Treasurer of BFM
P.O. Box 471280 | Lake Monroe, FL 32747-1280
or click here to donate to BFM online.
Read more
---