Posted on 1Mar CATEGORIES: General, Jud & Raquel Hatcher [Brazil], Letters Tags:Tags: birthday, Charis, cochlear implant, David Hatcher, Dulce, giving God glory, glorifying God, glory to God, Jonatas, Jud Hatcher, Laura, Raquel Hatcher0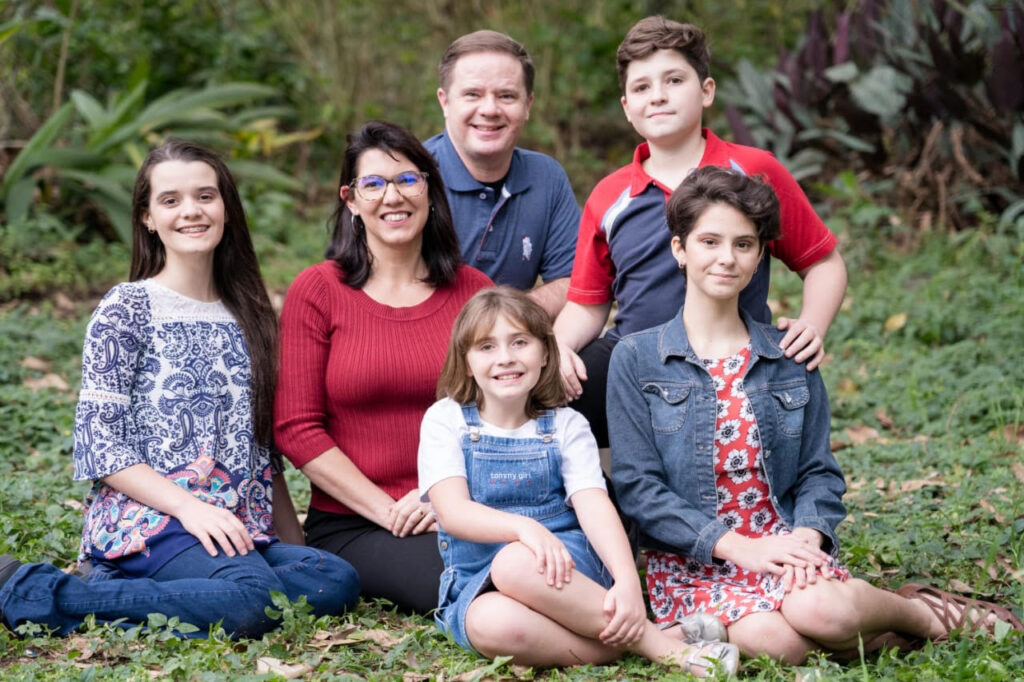 Tuesday, March 1
Hello dear friends,
We are so grateful for your prayers and financial support. Our family is doing well. My treatment is over and side effects have subsided. Laura still has a long way ahead of her as she learns to hear again through her left ear with the cochlear implant. This month we celebrated Raquel´s birthday. We also enjoyed time with my cousins David and Dulce Hatcher during the beginning of the month. The ministry in São Paulo is doing well. Jonatas and Charis´ training and exposure trip to the States was a great success. Our children were greatly influenced by them during their time with us. We are truly grateful for what the Lord is doing during our Stateside assignment. I want to share something a little different with you this time. May I share a few thoughts on glorifying the Lord with you today?
God ultimately expects us to give Him all the glory. "Whatever you do, do all to the glory of God (1 Corinthians 10:31). "For from him and through him and to him are all things. To him be glory forever. Amen (Romans 11:36). "To the glory and praise of God" (Philippians 1:11). So, how do Christians go about giving God all the glory? Here are two ways:
God receives the glory through our Faithfulness to Him.
God receives the glory when we demonstrate faithfulness. "Now it is required that those who have been given a trust must prove faithful" (1 Corinthians 4:2). Faithfulness is evidenced when providing an account of what was entrusted by the Master. Matthew Henry states, "to the trust reposed in him… keeping back nothing…when he seeks not to please men, but God; and not his own glory, and the applause of men, but the honor of Christ" is how a Christian is found faithful. Our thoughts, plans, and actions should be developed based on God's principles found in Scripture. Faithfulness is an issue of personal integrity. Luke 16:10 states, "One who is faithful in a very little is also faithful in much. Steadfast faithfulness to God goes beyond what the human eye can see. God examines the faithfulness of heart. We demonstrate our faithfulness and testify of Him by our internal and external mission. Faithfulness brings glory to God.
God receives the glory when we give account to Him.
God receives the glory when we provide an account of what He entrusted to us. The parable of the talents reveals this concept, "Now after a long time the master of those servants came and settled accounts with them" (Matthew 25:19). Everything a Christian is entrusted with is settled before God. It is impossible to omit anything from Him. "Nothing in all creation is hidden from God's sight. Everything is uncovered and laid bare before the eyes of him to whom we must give account" (Hebrews 4:13). Scripture is unequivocal regarding giving an account before the Master, "So then each of us will give an account of himself to God" (Romans 14:12). Another verse says, "they will give account to him who is ready to judge" (1 Peter 4:5). The Master can search the heart and test the mind. "I the Lord search the heart and test the mind, to give every man according to his ways, according to the fruit of his deeds" (Jeremiah 17:10). Each one of us must provide an account to God of the responsibilities entrusted to us.
Those whom He has entrusted must prove faithful, to use our talents, to maximize His Kingdom for all of us will stand before him to give an account. We do all things to give Him the glory.
May our commitment to give glory to God through our lives embolden us to live faithfully knowing we are accountable to Him for the talents he has placed in our lives.
Grateful,
Jud Hatcher
Contact Info:
Jud & Raquel Hatcher
São Paulo, Brazil
judsonhatcher@gmail.com
(872) 400-6522
For ministry donations:
Pastor George Sledd, Treasurer of BFM
P.O. Box 471280 | Lake Monroe, FL 32747-1280
or click here to donate to BFM online.
Read more
---
Posted on 5Sep CATEGORIES: John Mark & Judy Hatcher [France], Mission Sheets Newsletters Tags:Tags: Chicago, David Hatcher, Dulce, Elliana, John Mark Hatcher, Judy Hatcher, Nordic Trekking, opportunities, trek, trekking
September 3, 2019
Dear Co-Laborers in Christ,
I am sitting in the glider on David and Dulce's porch listening to the cicadas. God's wonderful creation even in its suffering state is absolutely amazing. Judy and I had the enjoyment of time with our grandchildren while David and Dulce celebrated their 15th wedding anniversary. We were able to come to Chicago to spend time with our children and grandchildren because Peggy, Judy's sister is doing much better. Thank each of you for your prayers on her behalf.
In Evansville, Indiana, this past month we also spent time with Philip, Amanda and our granddaughters from France. Our oldest grandchild, Abigail, began her first year studying to be a Physical Therapist. We will certainly miss her as a missionary in France, but God continues to guide her as He does each of us giving her the privilege of being His light at the University of Evansville. Philip and the rest of his family are now back in France.
Sometimes an opportunity to share the light of Jesus comes when we least expect it. The following incident that took place this Spring near our home in Tournefeuille is an example. Judy and I were on our daily trek when we came alongside a young lady who was walking her dog of a rare breed. We commented on the beauty of her dog and ask her about its breed. She mentioned that she had seen us out trekking before. This led to a conversation about where we were from and her volunteering that she had been to New York and was impressed by the multi course meal that she ate there. I was impressed, considering the fact that meals in France usually have many more courses than American meals.
Her features led me to ask if she was of Italian descent. You know, New York, big meals… She then said that she was Jewish and was in New York visiting distant relatives at the time of a religious holiday. This led to discussion of Judaism. She told us that her family was non-practicing but that her mother named her Elliana because God answered her prayer to have a child. This led to a brief discussion of the beauty of her name and the God who loves. It also stirred my heart to prayed repeatedly about our next contact with this young lady and that she would come to trust Christ.
While in the US, Judy and I trek in parks. As we cross people or walk along beside them great opportunities arise. We have had the opportunity to witness, to fellowship with believers, hear the testimonies of others. God is always at work.
So, let us all walk with Jesus this month… and the next … and the next.
Your fellows on this journey,
John and Judy
John Mark & Judy Hatcher
JMHatcher[at]aol.com
For ministry donations:
Pastor George Sledd, Treasurer of BFM
P.O. Box 471280
Lake Monroe, FL 32747-1280
or click here to donate to BFM online
Read more
---