November 19, 2022
Dear Brothers and Sisters,
Thank God we are doing well, and things are calm. We pray that all is well with our dear friends and supporters. There is news that the COVID is back and increasing, but here in our area things are calm. Thank God!
Now that our seminars for leaders are complete, we are starting back Sunday school for the children. Getting more members involved. We also plan on visiting a village not far from the church to bring people on the bus.
Our services in homes are doing well. Our plan for the next year is to reach out more and get more people involved. At the village of Ubim, we started having services on Saturday night. Several of the musicians from the church are going and helping with the music. Pray that we can reach more adults and that the youth who have been coming for several years can get more involved. This village has lots of young people and young adults. We pray that God will send a couple who would live there. There is so much that can be done.
Thank God we were able to drill a well for the church. We were using the neighbor's. We want to ask for your prayers for what we would like to do in the near future. We would like to have a river ministry to go to the people who can only be reached by boat. This was the ministry that Bro. Hatcher and Bro. Bratcher did a lot in this area. These are continuing fruits of the labors of their ministry. We would love to continue this ministry. We are praying what would be best: to buy a boat or rent one. Pray that God will lead us to what would be best.
Thank each of you for your prayers and support! God bless each of you!
Love in Christ,
Odali and Kathy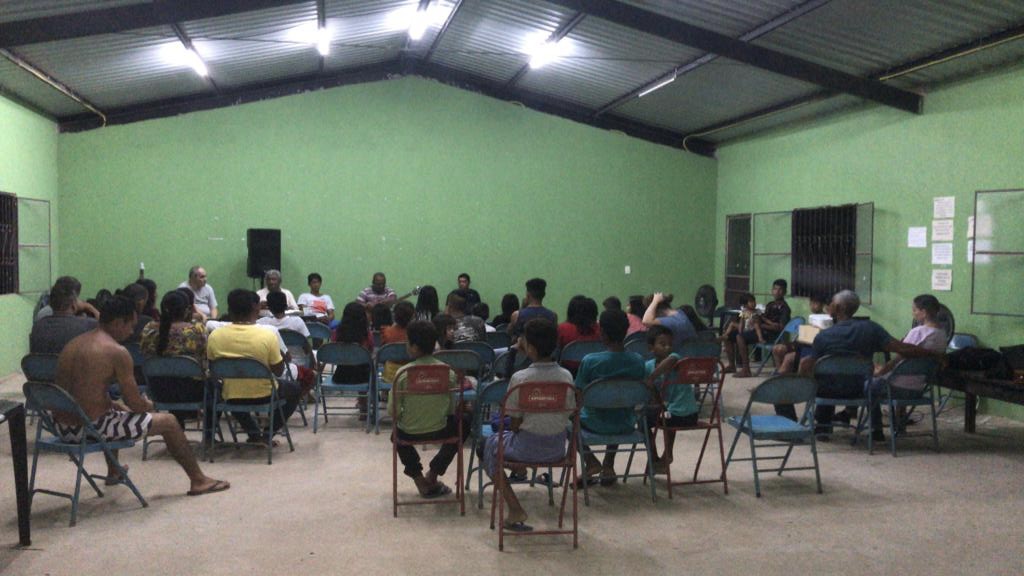 Contact Info:
Odali & Kathy Barros
Iranduba, Amazonas
Brasil, SA
odali_kathy@hotmail.com
For ministry donations:
Pastor George Sledd, Treasurer of BFM
P.O. Box 471280 | Lake Monroe, FL 32747-1280
or click here to donate to BFM online.
Read more
---
27 March 2018
Calvary Baptist Church, Richmond KY
HAROLD BRATCHER – MEMORIAL TRIBUTE
by Bro. Dave Parks
Harold Bratcher [along with his faithful wife, Marie] served Jesus Christ in full-time, committed, vocational ministry for over 70 of his 91 years of earthly life.  And, it was our privilege to have shared the greater portion of those years with them in the missionary fellowship of Baptist Faith Missions.
Harold graduated from Georgetown College in 1953. He would go on from there to earn his Master of Theology degree from Southern Seminary.
In the meantime, Harold and Marie were married in 1954.
He immediately began serving Christ in His churches here:  he pastored Valley View Baptist Church; then Friendship Baptist Church;  then also Newby Baptist Church, just a short distance across the way from here;  as well as serving as a full-time itinerant evangelist for several years.
After serving in these churches and ministries, they sensed the call of God to serve Him in Brazil.  And so, in 1959, they forsook all things here, and moved to the Amazon Valley, Brazil.
They began their ministry in Manaus, state of Amazonas – and for the next several years, they travelled by boat up and down the Amazon and Buzzard Rivers, preaching the Gospel of Christ in the towns and villages along those rivers. It was during one of these river preaching trips that they paid one of the ultimate sacrifices of following the call of Jesus Christ to wherever He might lead you.  In July of 1971, as they were returning from a two-weeks preaching trip up the Buzzard River, their son, Joel, fell overboard and drowned in the Amazon. Joel was 6 ½ years old.
I have heard Brother Bratcher recall that awful experience and memory in the words of Job in chapter 3.25:
"For the thing I greatly feared has come upon me, and that which I was afraid of is come unto me."
But, they could also have said – even at that very time – with Paul in Acts 20.24:
"But none of these things move me, neither count I my life dear unto myself, so that I might finish my course with joy, and the ministry which I have received from the Lord Jesus, to testify the Gospel of the grace of God."
Because…that's what they did.  They continued on their course until they finished it.
They began their church-planting ministry in Manaus, and in the surrounding regions in the state of Amazonas.  Among the many churches he established – and many of which he pastored for some time – are: Zion Baptist Church;  17th of August Baptist Church;  First Baptist Church of the Buzzard River;  then the 14th of December Baptist Church [which he pastored for 20 years];  the New Jerusalem Baptist Church on the Amazon River at Parana da Eva [which he pastored for 10 years];  then the last church he established and pastored was 24th of March Baptist Church [named after his birthday] – he pastored 24th of March for the last 20 years of his ministry there until he transitioned back here to the States.
But they also contributed and assisted in the establishing of other churches in at least three other States: Maranhao, Ceara, and Mato Grosso.
By the time they came back to the States to live, they left at least 41 churches, not only serving Christ themselves – but also continuing to reach out to establish other churches in other areas.
The Lord Jesus called and welcomed Marie into the Father's Home in February of 2011.  She had the joy of not only seeing Jesus face to face and being "absent from the body and present with the Lord" – but she also had the joy of being reunited with Joel after the 40 years of bereavement here.  Only someone who has shared that grief of separation can come close to understanding the joy of that reunion.
But – not just with Jesus and Joel – but also with the hundreds & thousands of those who are already in Heaven because Harold and Marie answered the call of Jesus Christ to go to Brazil to tell them the Good News of knowing God, the forgiveness of sins, and the gift of eternal life through faith in Jesus Christ.  
We believe the promise that Jesus made in Luke 16.9, when He said:
"And I say to you, make friends for yourselves by unrighteous mammon, that when you fail [die], they may receive you into an everlasting home"
We believe that when Jesus said this, He was meaning that when you give your life or your material means to make forever, eternal friends by sharing the Gospel of Christ with them – when you are the witness who tells others about Jesus Christ…or when you enable the witness to take that message of salvation – that when you die and go Home to Heaven, that Jesus will have attached them to your earthly witness and ministry and they will know that you were instrumental in their salvation.
So, that being so – when Marie went Home to Heaven in 2011, they were there to meet her and welcome her Home – knowing that they were there in Heaven because Harold and Marie Bratcher had come to Brazil "to testify to the Gospel of the grace of God."  
And then, when Harold joined them this past Friday, they celebrated that thanksgiving welcome together all over again!
That is worth giving your life for!
Harold and Marie gave 53 years of their lives to Christ in Brazil – and we thank God for giving us the privilege of knowing them and partnering with them.
And so, Harold also has finally gone Home.  And as sad as we all are for his not being here with us – we can't imagine how glad and ecstatically happy he is to be there! 
Jesus Himself has already met him with His Holy Face beaming with joy and pleasure!  
"Well done – you good and faithful servant….Enter into the joy of your Lord!"
And so – he has! 
—
Other Related Links:
Click here to read a brief history of their ministry.
https://www.bfmnow.org/hp_wordpress/index.php/2018/03/26/harold-bratcher-53-year-missionary-to-brazil-is-in-heaven/
Read more
---