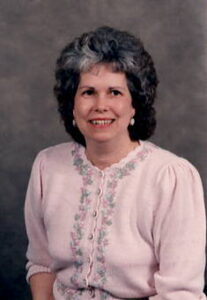 Wanda Turner [Richard is with the Lord]
Richard and Wanda Turner served in partnership with BFM in Brazil from 1971-1987. Richard is now in Heaven with our Lord.
They began their missionary ministry in Manaus, Brazil during 1971-1973. Richard supply-pastored in Quatorze de Dezembro Baptist Church while Harold and Marie Bratcher were in the States on furlough.
Then they continued their missionary service in Cuiaba, State of Mato Grosso, during the years 1973-1985. It was during this time that Richard started and planted Boa Esperanca Baptist Church. They started meeting in their home living room, then moved to their carport. They came to the States on furlough around this same time, and Bobby Creiglow came to continue the building of the church until they returned. A building was constructed shortly thereafter. Richard also ministered and preached to the lepers in their own church located in the leper colony.
After fulfilling their work in Cuiaba, Mato Grosso, Richard supply-pastored in a church in Manaus from 1986-1987.
Wanda bears testimony to the sustaining Grace of God and His faithfulness to them and to her through all of their seasons of joy and difficulties: "four major surgeries for me, much demonic opposition, dangers on land and in air – and thankful for all the prayers offered for us and God who has kept us!"
Wanda is enjoying living in Lynchburg, VA where she is striving to live a Christ-like life and continue to be a witness for Christ. Oh! and she also greatly enjoys her seven grandkids and two great-grands!
Pray for her! Reach out to her through every means you can (call, write, e-mail), and let her know you still appreciate her and her service. She would love to hear from you personally, or from your Sunday School class, or your church leadership.
Wanda Turner [Richard is with the Lord]
207 Shady Oak Lane
Forest, VA 24551-1113
434-316-2519 / home phone
wandaturner2017@gmail.com
When you designate your offerings for 'Veteran Missionaries Pension' or for 'Founder's Month Offering' [they are the same], they will be applied toward the continuing and on-going financial honor and support of these faithful life-long servants of Christ.
Click here to give now or you can mail your offering to:
BFM, c/o George Sledd
P.O. Box 471280
Lake Monroe, FL 32747-1280
---