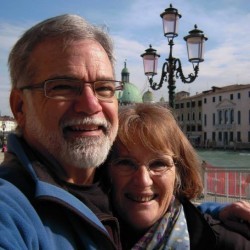 October 12, 2020
Dear Brothers and Sisters,
We would like to encourage you today as we review a speck of what God is doing. The bigger picture is beyond our ability to comprehend in the present and the future. "But as it is written, Eye hath not seen, nor ear heard, neither have entered into the heart of man, the things which God hath prepared for them that love him." (1 Corinthians 2:9) Who, a year ago, would have predicted that we would now be in a Covid pandemic? But, God knew and is greater than all.
The Tournefeuille church meeting yesterday was a blessing. We have been examining the encounters of of Jesus with individuals. This Sunday we looked at the seaside interchange between Jesus and Simon Peter concluding with "Fear not; from henceforth thou shalt catch men." (Luke 5:1-11). Early in the morning, in the middle of his net washing after a tiring night of failed fishing, Peter obeyed in pushing back the boat from the edge and later by casting once more the nets. Awed by the miraculous power of Jesus, Peter "fell down at Jesus' knees, saying, Depart from me; for I am a sinful man, O Lord". Jesus, instead, took Simon Peter with Him.
Do you, like Peter, feel tired and overwhelmed by the circumstances? Jesus, our friend, Savior, almighty God, has entered our boat. He is still telling us to "Fear not." He is in control. He will never leave you or forsake you and along the way you will experience His joy as He touches others through you.
One of the Tournefeuille church members (and our second oldest granddaughter) is beginning her last month of serving God by serving refugees who are being held in Austria. Among these are followers of Jesus who have been persecuted for their faith and others who need to know Christ who overcame everything that is against them. What a delight to see how God is using Nathalie and working in her life as she follows Him. Your prayers for her are much appreciated.
You may remember the August letter about Suzie (which I wrongly spelled Susie). Judy and I thought you might like to see the latest sign that surprised us a few days ago. So, here it is.
May the Lord bless each of you,
John and Judy
Contact Info:
John & Judy Hatcher
4, rue d'Aspin
31170 Tournefeuille, France
JMHatcher@aol.com
Present USA phone 1-812-416-1033
For ministry donations:
Pastor George Sledd, Treasurer of BFM
P.O. Box 471280 | Lake Monroe, FL 32747-1280
or click here to donate to BFM online.
---