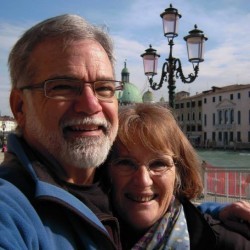 March 14, 2021
Dear Brothers and Sisters,
What a full month the past one has been. We have covered many miles on roads in seven different states since we last wrote to you. God has enabled us to spend wonderful moments with family and friends some for the first time in over a dozen years. Thank you for your continual prayers and support.
Meeting regularly with believers on three different continents via internet for prayer, study of the Word, worship of our LORD and Savior and counseling is a continuing blessing. And, the best news, our physical return to France appears to be on the horizon! We are hoping to complete the remaining task this week that will free us to return to Tournefeuille.
Judy and I celebrated 48 years of marriage on the third of March with a sirloin steak lunch and a nice walk along Lake Michigan. Paul (my brother) and Wanda Hatcher, missionaries to Brazil you helped for over 40 years celebrated 50 years of marriage yesterday… taking care of Dad… missionary helped by you for over 60 years in Brazil. They have all three been sick with the infamous Covid virus. Paul and Wanda are now well on their way to recovery and Dad is doing better. Our entire family is very grateful for the diligent care Paul and Wanda have provided for our parents. Paul tells me, "We are just contributing to your ministry so that you are able to serve where you serve." Their contribution often includes sleepless nights.
We do not know all that you are going through, but our Heavenly Father, Eternal God and Creator of all does. He is reachable day and night … without internet. Feel free to email us using the address posted on the BFM site if you would like for us to pray for you.
May the blessings and peace of God be with you,
John and Judy Hatcher
PS – When you email indicate in the subject line some things that will help us know that it is not spam (church, or location, etc.).
Contact Info:
John & Judy Hatcher
4, rue d'Aspin
31170 Tournefeuille, France
JMHatcher@aol.com
Present USA phone 1-812-416-1033
For ministry donations:
Pastor George Sledd, Treasurer of BFM
P.O. Box 471280 | Lake Monroe, FL 32747-1280
or click here to donate to BFM online.
Read more
---
PAUL & WANDA HATCHER
Paul and Wanda Hatcher served the Lord in partnership with BFM for over 40 years.
Paul grew up in Manaus, Brazil in the John and Alta Hatcher family. After marrying Wanda and pastoring here in the U.S., they returned to Manaus to serve in the Tabernacle Baptist Church. When John and Alta transitioned their church-planting ministry to the states in the south, Paul assumed the pastorate and leadership of Tabernacle Baptist Church. The church experienced phenomenal growth under his leadership and numerous churches were planted in the neighborhoods of Manaus.
In still later years, even while they were reaching Manaus, God laid it on their hearts to reach the states in NE Brazil. Through their outreach burden, vision, and efforts, numerous church-planting teams were sent out by Tabernacle Baptist Church, Manaus, Brazil, into the states and cities of the northeast. Churches that had been established in previous years were re-vitalized, and other church plants were established.
Just a few years ago, the Lord directed them to return to the States to provide care for their aging parents. They have faithfully fulfilled these services as well. They continue to serve and assist in their current home church in Clermont, FL.
Pray for them! Reach out to them through every means you can (call, write, e-mail), and let them know you still appreciate them and their service. They would love to hear from you personally, or from your Sunday School class, or your church leadership.
Paul & Wanda Hatcher
15905 Mercott Ct
Clermont, FL 34714
229-529-8497 / home
239-227-6551 / Paul's cell
rphatcher@gmail.com
When you designate your offerings for 'Veteran Missionaries Pension' or for 'Founder's Month Offering' [they are the same], they will be applied toward the continuing and on-going financial honor and support of these faithful life-long servants of Christ.
Click here to give now or you can mail your offering to:
BFM, c/o George Sledd
P.O. Box 471280
Lake Monroe, FL 32747-1280
Read more
---