Sheridan and Anita Stanton served in partnership with BFM in Peru for 32 years from April 1983 to October 2014.
Anita and I were missionaries in Peru from April of 1983 until October of 2014 (32 years).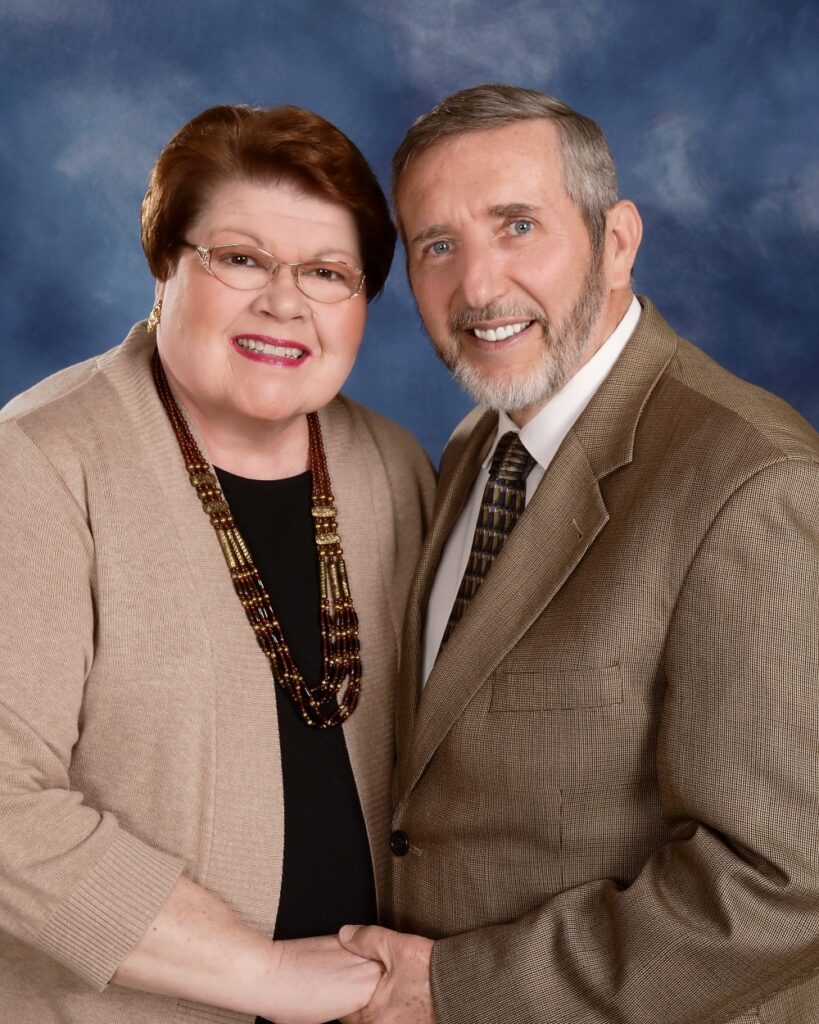 Here's a timeline of the major events:
1973 I graduated from High School and began studies at Lexington Baptist College.
1974, June 7th Anita and I were married.
1977 I graduated from LBC and our daughter Leah was born.
1978 I was ordained to the Gospel Ministry and began pastoring the Jordan Baptist Church of Sanford, Fl. Also, our son, Joshua, was born.
1982 resigned the pastorate of Jordan Baptist to begin preparations to go as missionaries to Peru under the authority of Jordan Baptist and legally and financially aided by Baptist Faith Mission.
1983, April – we arrived in Iquitos, Peru. Leah was five years old, and Joshua was four when we arrived in the Northern Jungle town of Iquitos, where the Amazon River begins. They grew up in Peru and came back to the States for college. Leah and Joshua are both grown now, married with children, and live in the United States.
We lived for seven years in two different jungle towns of Peru: Iquitos and Pucallpa. Those were our "formative" years as missionaries. The Lord used us to start our first church in Pucallpa and then assume the directorship of the Pucallpa Baptist School (begun by former Missionaries, Del and Ada Mayfield). Anita and I worked with the school for five years and the Lord blessed with an increase in enrollment from 250 students to 870 in our last year there.
My wife, Anita, (a graduate of the University of Kentucky) spent years in Peru developing Sunday school curriculum for our churches. Many of her materials have been used as Religion Curriculum in the Peruvian Public schools. She completed the curriculum series for children of all ages. She managed her home and took great care of her husband and children! She has always been a Proverbs 31 wife and mother.
During the late eighties, the terrorist situation created an extremely difficult time for missionaries in Peru. We felt it best to move to the capital city of Lima at that time. There we stayed for the next seven years and were able to help start three more churches.
It was also while in Lima I began traveling and teaching Bible classes in five different cities of Peru. This quickly turned into the Baptist Institute of Biblical Studies, which we continued until we left Peru in 2014.
When our children returned to the USA to begin college, Anita and I felt it would be best to move and work out of the town of Huánuco, 6300ft above sea level in the Andes Mountains. The main reason for moving there was because of the town's location in the center of Peru. The location allowed us to have our Institute classes there instead of me traveling all over the country. Because of the towns central location our pastors could travel to us. The first classes there were an immediate success in that they not only received the teaching but now Pastors had a venue for fellowship that they had never had before. This large-scale association significantly helped the unity among our pastors and preachers in Peru.
Jungle, coast, or the Andes Mountains; everywhere we worked in Peru, we were always involved in church planting. The first church started was Iglesia Bautista Jordan in the jungle town of Pucallpa and the last church organized was the Iglesia Bautista Calvario in the Andean Mountain town of Huánuco. During those years we were directly involved in the planting of seven churches and indirectly with about thirty (working with Peruvian missionaries in starting new works).
For most of those years I prepared course materials for the Bible Institute, pastored the mission we were involved with at the time. I also traveled around Peru to visit and encourage the churches and missions.
2008 I graduated with a master's degree in Biblical Counseling from Luther Rice Seminary
2012 I graduated with a PhD in Christian Counseling from the Louisiana Baptist University.
Hosting mission teams became a ministry for us also. Some years we would host two or three teams a year. These mission teams were always a blessing to our work in Peru.
People very often refer to missionaries' great sacrifices in leaving their homes in the USA, but we never considered our ministry in Peru as a sacrifice; that is until our grandkids came along. We are thankful for webcams, faster airplanes, and internet phones!
In 2014 the Berea Baptist Church of Hiddenite, NC extended a call for us to come and be their pastor. After thirty-two years (half my lifetime) we knew it was God's will for us to leave the mission field of Peru and come to North Carolina to continue the rest of our years in ministry here. The Lord has been very gracious to us here and we have grown to love the dear Saints of Berea Baptist very much.
2018 the directors of Baptist Faith Mission invited me to serve as a director of BFM. I enjoy the opportunity to serve in this capacity and in some small way, give back to the ministry of Baptist Faith Mission in helping local churches send and maintain their missionaries on the foreign field.
Our view of life is that neither the United States nor Peru is our home, but as the Bible teaches us, we are only pilgrims in this world and citizens of a heavenly city. To God be the glory!
Sheridan & Anita Stanton
224 S. Center St
Taylorsville NC 28681
828-962-0149
sestantonperu@hotmail.com
When you designate your offerings for 'Veteran Missionaries Pension' or for 'Founder's Month Offering' [they are the same], they will be applied toward the continuing and on-going financial honor and support of these faithful life-long servants of Christ.
Click here to give now or you can mail your offering to:
BFM, c/o George Sledd
P.O. Box 471280
Lake Monroe, FL 32747-1280
Read more
---
"BRING AN OFFERING…" Psalm 96.8
How to contribute to the missionaries who receive their support through BFM
1 – You can write and mail your checks to Baptist Faith Missions | George Sledd,
Treasurer | P.O. Box 471280 | Lake Monroe FL 32747-1280 | grsledd@hotmail.com
2 – You can contribute online via debit or credit card by clicking on our DONATE/SUPPORT page. Click the appropriate button and follow the prompts.
3 – You may also enroll in an automatic recurring contribution program by going to the
same DONATE/SUPPORT page on our website and follow the prompts.
If your contribution is for a specific missionary or project, you should so designate it.
The greatest need we have each month is for the GENERAL FUND. The GENERAL FUND supplies the essential commitments we have made to our missionaries to maintain their ministries.
---
FURLOUGH ANNOUNCEMENT
Sheridan and Anita Stanton are planning to be Stateside until the end
of the year. If you wish to contact him for availability to schedule a visit to your church,
you may email him at sestantonperu@hotmail.com or 859.490.5370. Their Stateside
address is: 1012 Balsam Drive, Lexington KY 40504 | 859.277.3716
---
FOUNDER'S DAY – JUNE
The original post concerning Founder's Day and promotional materials may be found by clicking here. 
June is almost past – but it is still not too late to give an offering in honor of Founder's Day.  And, even if you never knew and do not remember BFM's first founders from 70 years ago, you can still respond to the call and mandate of our faith's FIRST AND ORIGINAL FOUNDER, JESUS CHRIST.  He is 'the Author and Finisher of our faith.'  He is THE FOUNDER and PERFECTER.
Here's what each of us can do:
PASTORS – we encourage you to observe a special Missions or Great Commissions Emphasis Sunday and give your church the opportunity to give to the BFM General Fund.  Emphasize Jesus' command to preach His Gospel to all nations.  That is what our missionaries are doing.  That is the original burden and vision that inspired the founding of BFM.  We are continuing to perpetuate that vision and burden.  That is what we are supporting when we give to BFM's General Fund.  We will use these offerings to continue to supply our missionaries' on-going needs.
GIVING FRIENDS – if your church is not participating in our Founder's Day Offering, we encourage you to support your missionaries by giving a personal offering.  You can give your offering by any of the means we have listed on the Contributions Page – or you can go directly to our Donate/Support page on our website and contribute through the options we have made available to you.
Of course, you can give as the Lord enables you to give – but what if every one of our missionaries' Giving Friends gave at least a $70 offering in honor of the 70 years our missionaries have been faithfully preaching the Gospel?
---
MARGUERITE HALLUM
The original post Marguerite Hallum may be found here.  
Marguerite Hallum was the unmarried daughter of the first missionaries BFM supported for missions in Peru.  She served with them during all the years of their ministry in Peru, and then cared for them until their deaths after they returned to the States.
She lived and worked her adult years in Louisiana, but for the past six years has been living in DeLand FL in an assisted-living facility.  Her niece, Teeter Mauldin, and husband, Steve, brought her to DeLand so they could care for her just a few minutes from where they live – and they did so faithfully and lovingly.  Marguerite was attended constantly not only by Teeter and Steve, but also by the loving staff and visiting friends.
We had the opportunity to visit with Sister Marguerite during our BFM Winter Conference at Park Ridge Baptist Church back in January 2009, and she delighted us with her company, fellowship, and her many, many exciting stories of their ministry experiences in Peru.
Sheridan and Anita Stanton attended that same Conference, and after the Conference they spent an entire day with Marguerite as she shared with them volumes of photos and relived their experiences in Peru during earlier years.
God has called her Home to see the Face of Jesus Christ, and also to be reunited with all of her loved ones who are already there – and by the multitudes of 'forever friends' whom she was instrumental in sending there before her [Luke 16.9].  "Well done, good and faithful servant!"
Sheridan and Anita attended her memorial service in Hammond, Louisiana on Monday, June 11, to express the love, respect, and appreciation all of us in the BFM fellowship feel toward her.  Her family asked Sheridan to speak and testify to the missionary work that continues to this day because the Hallums were there.
We encourage you to pray for Steve and Teeter Mauldin.  Their email address is: steveandteeter@bellsouth.net.
You may address written correspondences to:
Teeter Mauldin
432 Rich Avenue
DeLand, FL 32724-4315
---
ROSES & NOSES by Jim Orrick
I recently heard a radio message where the pastor was stressing to his congregation the importance of them having their priorities in the proper order, especially in respect to their giving.  He said that it is often seen at funerals where hundreds, sometimes even thousands of dollars, are spent on flowers that remain beautiful for only a short time and then are removed to the cemetery dump.
I laughed aloud when he said, "DEAD NOSES CANNOT SMELL ROSES."
My father passed away in January, 1972.  The weather was extremely cold, and as we drove to the cemetery, freezing rain and sleet were falling.  A few hours after the service, the family went back to the cemetery to visit the grave.  Several hundred dollars of flowers were on his grave, frozen stiff and covered with ice.  In a few days, they would be removed to the cemetery dump.
While we all want to express our sympathy to the survivors and to show respect to the deceased, surely better use can be made of the money God entrusts us with than to give it to "DEAD NOSES THAT CANNOT SMELL ROSES."
For years, my wife and I have made it a practice that when a member of our church congregation died, we would send a memorial offering to BAPTIST FAITH MISSIONS.  You can read in the MISSION SHEETS that there are others who do this also.  To invest in eternal souls is better than to spend money on flowers whose beauty will fade in only a few hours.
For several months Brother Parks has been stressing the importance of giving to the GENERAL FUND of BAPTIST FAITH MISSIONS.  Why not make it a practice to give a memorial offering in memory of your departed friends and loved ones rather than spend it on flowers?
Remember, "DEAD NOSES CANNOT SMELL ROSES!"
---
2012 Thanksgiving Offering
Please be making your plans right now to give as generous and liberal Thanksgiving Offering as the Lord enables you.  The needs are great and on-going.  Remember, when you support the General Fund of BFM, you are supplying the essential needs of 12 faithful missionary families to obey Jesus' Great Commission to go into all the world, preach the Gospel, baptize those believers, establish New Testament Baptist churches, and teach those churches to believe and practice everything Jesus Christ has commanded us.  You will not find anywhere on this planet more Scriptural, committed, and fruitful missionaries than those who serve in partnership with BFM.
Read more
---