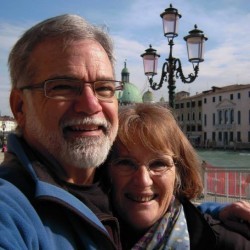 December 16, 2022
Dear Sisters and Brothers in Christ,
Judy and I are grateful for your support and the prayers. If you have prayed for the Bible study at L'Union, you will be glad to know that your prayers are being answered. We are very encouraged by the interest shown in the meetings. The hostess, Blandine and her son, Kerwan, are believers who know the Scriptures well. They are great participants helping their friends understand what we are reading. The others are not believers, have practically no knowledge of the Bible, but are clearly seeking. God has opened great doors of friendship with each of them. We started with the first few chapters of Genesis and are now slowly working our way through the Gospel of John. Please continue to pray for these studies and the seekers who are there.
The other Bible studies are also going quite well. The one at Mazere is made up of 10 individuals from very different backgrounds who all profess faith in Christ. They range in age from mid-forties to mid-seventies. We are presently studying the book of Ruth. The long-term plan is to study the Old Testament passages that tell about the women who are specifically mentioned in the genealogy of Christ in the opening verses of the Gospel of Matthew. This group is a mixture of people with an outstanding knowledge of the Bible and some who have a ways to go.
The Bible Study in Campagne-sur-Arize is four people from our church, and Laure and Henri, a couple who are believers with very little knowledge of the Scriptures. Judy teaches this couple's children while the adults study.
We are also delighted with new contacts that God has given and we look forward to what He will do in the days ahead.
A bit of trivia to remind us that the time is short and that we "must work while it is yet day." Judy and I met the parents of Blandine (lady who hosts the first Bible study mentioned above) when we first came to France. It dawned on me this week that she is the same age now as her parents were when we first met them. We have been here for an entire generation and there is still much to be done! So, keep praying!
Your co-laborers in Christ,
Judy and John
Contact Info:
John & Judy Hatcher
4, rue d'Aspin
31170 Tournefeuille, France
JMHatcher@aol.com
Present USA phone 1-812-416-1033
For ministry donations:
Pastor George Sledd, Treasurer of BFM
P.O. Box 471280 | Lake Monroe, FL 32747-1280
or click here to donate to BFM online.
---