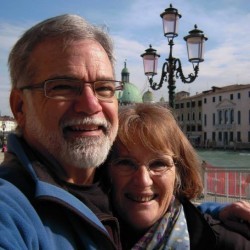 November 16, 2021
Dear Fellow laborers,
Thanksgiving Day is just around the corner. Despite the complicated circumstances of the present, we have more than we can remember for which we can be thankful. A verse that has been very helpful for me is, "in everything give thanks; for this is the will of God in Christ Jesus for you." (1 Thessalonians 5:18). Judy and I are very thankful for your love for us and the way God works through you in His care for us.
We to plan celebrate Thanksgiving together with Philip, Amanda, and some other members of the church. Judy and I are very grateful to be back in France, our primary field of service, as we celebrate Thanksgiving this year. The evidence of growth in the lives of believers, especially some of our young people, is a cause of rejoicing.
Yesterday, Judy and I received our third Covid Vaccine. Without it we would be quite limited in relationships with people that we want to see come to Christ. While injecting me, the nurse asked why were in France. This question opened the door to discussing personal faith in God. You never know where an opportunity may arise to "to give an answer to every man that asketh you a reason of the hope that is in you"!
The various Bible studies, prayer meetings and youth meetings are going well.
Thank you for your prayers.
From France,
John and Judy
Contact Info:
John & Judy Hatcher
4, rue d'Aspin
31170 Tournefeuille, France
JMHatcher@aol.com
Present USA phone 1-812-416-1033
For ministry donations:
Pastor George Sledd, Treasurer of BFM
P.O. Box 471280 | Lake Monroe, FL 32747-1280
or click here to donate to BFM online.
---