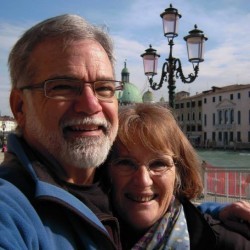 July 23, 2023
Dear Fellow Laborers,
It just dawned on me that I had not written to you this month. We have been busy with activities related to our move a bit over a month ago. The house in Tournefeuille was our home and center of ministry for nearly 23 years… many years of accumulation. That is the longest that we have lived in any house.
Today we had a great church meeting with several visitors. Last month I mentioned a young man, Timo, who trusted Christ and was baptized last year. Philip had been meeting with him weekly to encourage him in his walk with Christ. A picture of the youth meeting with a number of his friends was included with the letter. This young man is quiet, but friendly. Four of the visitors today were a result of his contact. Two of these were here for the third time. It is interesting how lines cross. Amanda teaches piano to the mother of two of the young men who were here this morning. One son is dating a girl who was recently saved. The boy's mother told Amanda that the girl felt very at home in our meetings. Another visitor today is Timo's grandmother.
We ask your prayers for our closest neighbors. God has given us a very good relationship with them. We have had them over for dinner and had the opportunity to speak about spiritual matters a number of times. They have indicated that they will visit one of our Sunday meetings.
Your prayers for our many acquaintances of many years would also be greatly appreciated. This coming Thursday we are to have dinner with a couple that we have known for many years. Their daughter trusted Christ a number of years ago, followed the Lord in baptism and was a faithful participant in our assembly. She is now at a university in the city of Lyon.
Your fellow servants,
Judy and John
Contact Info:
John & Judy Hatcher
2 T Impasse de la Picardie
31830 Plaisance du Touch
France
JMHatcher@aol.com
Present USA phone 1-812-416-1033
For ministry donations:
Pastor George Sledd, Treasurer of BFM
P.O. Box 471280 | Lake Monroe, FL 32747-1280
or click here to donate to BFM online.
---