PLEASE NOTE!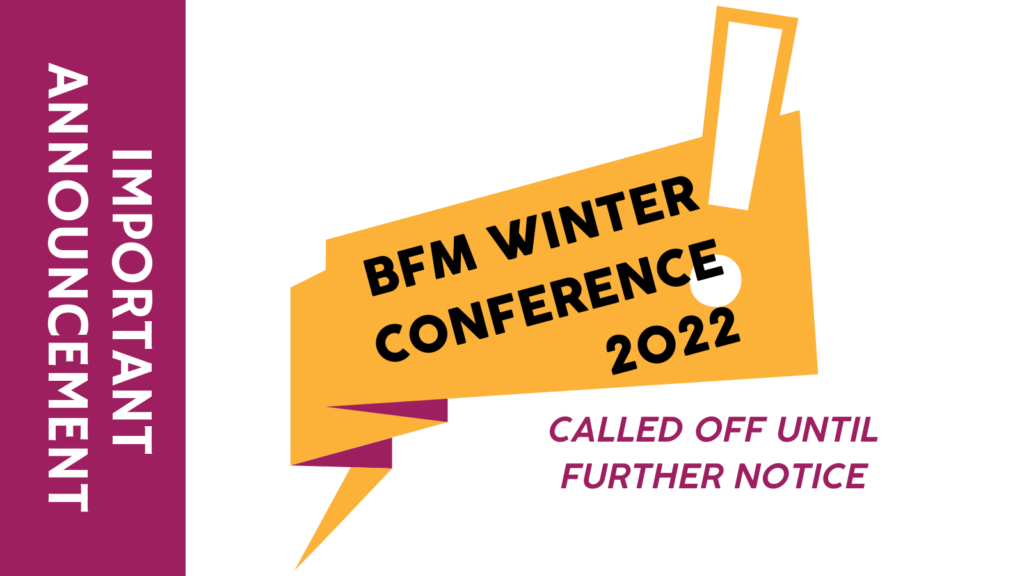 THE BFM WINTER CONFERENCE HAS BEEN CALLED OFF UNTIL FURTHER NOTICE!
Pastor Ben Glover and the Park Ridge Baptist Church have regrettably and reluctantly called off until further notice the BFM Winter Conference scheduled for January 16-19.
This is due to outbreaks of the Omicron Virus both in the greater-Orlando area and also among the members of their church.
They didn't want to do this, and especially at this late date, but they believe it is the wisest, safest, and most prudent course of action at this time. They would still like to hold open the possibility of re-scheduling for some time soon, maybe even within the next couple of months. We'll see how all the circumstances develop. Stay tuned…
But, for now – THE BFM WINTER CONFERENCE HAS BEEN CALLED OFF until further notice.
They also regret and apologize if this causes complications to anyone who may have already made or booked travel/accommodation plans. But this decision is made with prayerful consideration of everyone's best interests.
We do want to thank and commend the Park Ridge church for hosting the Winter Conference for going on four decades. They have been faithful and diligent supporters and advocates for our missionaries. Pray for them.
Stay tuned to our Facebook page (facebook.com/BFMnow) and our FaithWorks Blog (www.bfmnow.org/faithworks-blog/) for further information and details.
---